Deaths, Injuries Result from Construction Accident while "Jumping the Crane"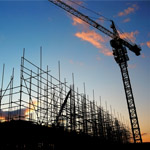 No, it's not the latest extreme sport, although it does have a high element of danger and requires plenty of safety gear and equipment. "Jumping the crane" refers to adding sections to a crane to make it taller. If not done correctly, a section of the crane can come loose and fall from a great height, causing devastating damage to people and property below.
In March of 2008, a New York City crane collapse that occurred during a jump killed seven people when a steel collar fell and damaged another collar located at a major anchor point, causing the 200-foot tall crane to detach and fall.  That accident on Manhattan's East Side killed seven people and launched an outcry for tighter regulation and inspection of cranes and a dozen proposals to make construction sites safer for workers and others living or working in or near construction zones.
Just ten days later, two construction workers were killed and five others injured in a Miami, Florida crane collapse. Apparently, a 20-foot section of crane which was being raised became disengaged and fell 30 stories onto a house which was being used a field office for the construction workers.
The New York City crane collapse of 2008 is back in the news, as an inspector who had been under criminal charges for falsifying records related to the accident was acquitted earlier this month on all counts. Crane jumping continues as a routine practice in the construction industry, and crane accidents continue to account for about one in five of construction fatalities. If you or a loved one has been involved in a crane accident, contact New York City construction accident lawyer Leandros A. Vrionedes, P.C. to discuss your rights to compensation for the damages caused.