Court Rules Fall from Billboard Catwalk was a Covered Injury under the Scaffold Law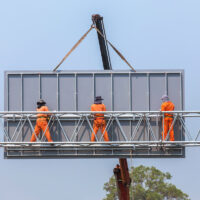 Billboard ads are temporary in nature and meant to be changed from time to time. When a new advertisement is being put up, does that work count as "routine maintenance," or is the billboard being "altered" within the meaning of New York Labor Law 240(1) – the Scaffold Law? How this activity is categorized by the courts can make all the difference in deciding whether the property owner or contractor will be absolutely liable for a fall which occurs on the job.
This question was recently addressed by the New York Court of Appeals in Saint v. Syracuse Supply Co. The plaintiff in this case, Saint, was part of a 3-person crew replacing an ad on a billboard. Saint, who was working on the lower catwalk in windy conditions, ascended to the upper catwalk to help the other crew members. He detached his lanyard from the catwalk's safety cable in order to get around one of the crew, and at that time a strong gust of wind caught the vinyl ad, which struck Saint in the chest, causing him to fall ten feet onto the lower catwalk. His injuries from the fall included a dislocated shoulder and several herniated discs. He could no longer work on billboards after the accident and was terminated from his job.
New York Labor Law section 240(1) holds property owners and contractors absolutely liable for gravity-related or elevation-related injuries when the proper safety devices or precautions are not provided. 240(1) applies to any fall from a height while engaging in a covered activity. Clearly, Saint fell, but was he engaged in a covered activity at the time? Section 240(1) applies to "erection, demolition, repairing, altering, painting, cleaning or pointing of a building or structure." You will see that maintenance is not listed here, and often the courts are called upon to decide whether a given activity was routine maintenance instead of one of the covered activities (see Ladder Fall is a Covered Injury During Repair, But Not Routine Maintenance posted Nov 30, 2011).
The question in this case is whether changing a billboard sign counts as "altering" or not. Previous court decisions have held that altering means "making a significant physical change to the configuration or composition of the building or structure." Okay, but then you have to ask when a change is "significant," and here the courts provide confusion rather than guidance. For instance, installing a satellite dish is a significant change, but removing a satellite dish isn't.
In a case from 2005 (Munoz v. DJZ Realty), this same court had held that putting a new ad on a billboard does not count as altering, because there is no change to the structure itself beyond just its appearance. Instead, it is more like "cosmetic maintenance" or "decorative modification" and therefore not covered under the scaffold law.
You might think that was the end of it, but it wasn't. The job in this case required more than just taking down an old ad and tacking on a new one. Here, four extensions had to be attached to the billboard to accommodate the new ad. A crane was required for the job to lift the extensions up to the billboard, and a three-person crew was required to do the job.
Since the structure itself was physically modified, the court held that this activity counted as altering, and therefore section 240(1) applies. What about the fact that these extensions were only temporary attachments? The court said that fact was irrelevant. Section 240(1) does not require that changes be permanent to count as "altering."