Court Permits Plaintiff to Continue Pursuing Trip-and-Fall Claim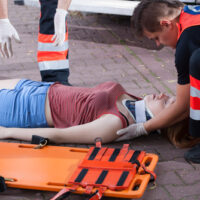 In an opinion on a summary judgment motion recently issued by a New York Supreme Court judge in Westchester County, the court shed light on how New York courts are to determine whether or not a crack or other defect on a public walkway is too slight to give rise to a claim for damages. The ruling granted an injured plaintiff the right to move forward with her claim for money damages after a fall down a set of stairs.
The case of Aviles v. Putnam Park Properties, LLC is based on the claims of Blanca Aviles against the owners and managers of the building where she once lived. On the day Aviles was moving out of her apartment in Port Chester in September of 2010, she was walking down a short staircase in front of her building while carrying a bag full of clothes when she tripped over a crack in the stair. According to photos submitted by the parties to the court, the crack in the stair resulted in a chip in the top step that was roughly ½" deep. Aviles reached for the handrail after tripping, but the rail wobbled, causing her to fall down the three concrete stairs and suffer injuries.
Aviles filed a lawsuit against the owners and those responsible for maintaining the building, seeking compensation for her injuries. The defendants to her lawsuit filed a motion for summary judgment. This motion argued that, despite the fact that the property manager visited the building twice a month, he was unaware of the crack in the stair or the unstable handrail either from experiencing these defects first-hand or from a resident complaint. Additionally, the defendants argued that the defect in the stair was insignificant—a "trivial defect" that was not substantial enough to support a lawsuit.
Property owners have an obligation to keep their property in safe condition, free from hazards which could cause a visitor or lessee to become injured. However, there are some hazards that are considered too small to constitute a basis for a lawsuit against the property owner, even if someone is injured. In New York, if a complained-of hazard is deemed "trivial," then a plaintiff's claims can be dismissed before trial. The defendants to Aviles' claims described the 1/2" crack as a "textbook example of a trivial defect."
The court in this case explained that a defect in a stair or sidewalk which would merely be a nuisance, on which a pedestrian might stub their toe or stumble, would be examples of trivial defects. While a defect could be too small to warrant an injury lawsuit, the court explained that determining what is or is not too trivial a defect and could in fact put a visitor's safety at risk requires an examination of all circumstances surrounding an accident. The defect may have small dimensions, but when considering where it's located, it could still be dangerous by virtue of being hard to see or difficult to avoid. The court explained that, rather than the judge deciding whether or not a defect is trivial, such complex analyses of the facts surrounding an accident should be conducted by a jury of the victim's peers. The motion for summary judgment was denied.
For experienced and compassionate legal assistance with a claim for compensation after you're hurt by a dangerous condition on someone else's property, contact New York personal injury attorney Leandros A. Vrionedes for a free consultation on your claims, in Queens at 718-777-5895, and in New York at 212-889-9362.