Court of Appeals Reverses Summary Judgment in Favor of Doctor in Malpractice Action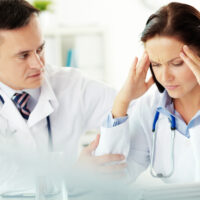 The highest court in New York State, the Court of Appeals, recently considered a medical malpractice case looking at whether or not a lower court was correct in dismissing the claims of an injured patient. The justices concluded that the Appellate Division had been wrong to grant a summary judgment motion in favor of the doctor, and have reinstated the patient's lawsuit, allowing it to progress toward trial.
The case in question is Pullman v. Silverman. At issue in the case were a patient's claims that his doctor had caused a serious heart condition by prescribing drugs that produced a negative interaction. David Pullman, the patient and plaintiff, was prescribed both Lipitor (a beta blocker) and azithromycin (an antibiotic) by his doctor, David Silverman. Pullman experienced a cardiac arrhythmia soon after, which worsened to become an atrioventricular heart block. Pullman was forced to have a permanent pacemaker installed as a result of this condition.
Pullman filed a claim for personal injury damages against Silverman, alleging that Silverman committed medical malpractice by prescribing the two drugs, and "in negligently failing to consider the possible adverse drug interactions in a patient on both Lipitor and Azithromycin." Pullman argued that his heart block was caused by the combination of these drugs.
Silverman filed a motion for summary judgment, arguing that the claim should be dismissed due to the fact that his actions were not the proximate cause of Pullman's injuries. Silverman presented an affidavit from a medical expert who claimed that the doctor's prescription of azithromycin and Lipitor could not have caused the patient's condition, and thus that Silverman's medical decisions weren't the cause of the patient's injuries. Pullman responded with testimony from his own medical expert who pointed out that Silverman's expert failed to cite any medical research on the effects of the interaction of the two drugs, and that, since there were still factual questions about the cause of Pullman's condition, the case should go to trial for a judge or jury to decide.
Proximate cause, as we've discussed in regards to previous cases, is the question of whether a defendant's negligent acts were the legally-culpable cause of the plaintiff's injuries. A defendant may have committed an error, but if the plaintiff's injuries were caused by some other event or condition other than the defendant's acts, then the defendant shouldn't be held financially responsible for the costs of the plaintiff's injuries. In this case, Silverman was essentially claiming that Pullman's condition couldn't have been caused by the combined effect of the drugs, and that Pullman would have needed a pacemaker no matter what Silverman did or didn't prescribe.
The Court of Appeals rejected Silverman's argument and reinstated Pullman's lawsuit. The justices noted in their opinion that Silverman's expert made only conclusory statements about the effects of prescribing azithromycin and Lipitor together, and failed to back up these assertions with scientific evidence. The justices pointed out that, in order to have a claim dismissed through a summary judgment motion, a defendant needs to eliminate any fact-based questions, leaving only questions of whether the defendant is legally responsible based upon the undisputed facts of the case. Since the justices found that the defendant presented insufficient evidence to prove that the drug couldn't have caused the interaction, they ruled that the case should go to trial for a jury to decide this issue.
If you've been injured by a negligent medical professional in New York, find out if you may have a claim for money damages for these injuries by contacting the determined and knowledgeable New York personal injury lawyer Leandros A. Vrionedes for a consultation, in Manhattan at 212-889-9362, and in Queens at 718-777-5895.