Court Dismisses Claims of Subcontractor Plaintiff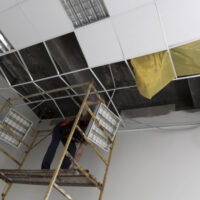 In a recent personal injury claim based on New York's Scaffold Law, a trial judge for the Supreme Court in New York County dismissed the claims of a subcontractor determined to be the only person responsible for his injuries.
Injuries received while constructing a scaffold
The case of Merendino v. Costco Wholesale Corp. was based on injuries received in a fall. Frank Merendino, the victim, had entered into an oral contract with Merendino Corp. to manage certain aspects of a renovation project on a Costco facility, including demolition. (to avoid confusion with the defendant Merendino Corp., we refer to the plaintiff as "Frank.")
On the day of the incident, Frank had stopped by the job site intending only to finish some work and pick up some equipment. He received a phone call while he was there, in which one of the employees of the main contractor on the job asked when Frank would create an opening for a door. Frank then began putting together a scaffold which he believed belonged to an employee of Merendino Corp. Despite having a safety harness in his car, he did not wear it while erecting the scaffold. He fell 12 feet down while pulling on one of the planks in the scaffold.
Claim by subcontractor
Frank filed a claim under Labor Law §§ 200, 240 (1), and 241 (6) against several parties involved in the project, including Merendino Corp. Merendino Corp. filed a motion for summary judgment dismissing Frank's claims, arguing that Frank was the sole proximate cause for his injuries, making him ineligible for damages. Prior to Merendino Corp filing this motion, Frank had admitted in deposition testimony that he did not report to anyone at the site, that he controlled the manner and methods of his work, and that he was not supervised on the site. He testified that he didn't wear the harness while erecting the scaffold because he didn't think it was necessary. While he pointed out that the scaffold belonged to a Merendino Corp. employee, Frank testified that he didn't believe the scaffold was defective. In response to Merendino Corp.'s summary judgment motion, Frank filed an affidavit that contradicted much of what he had testified to earlier. In the affidavit, Frank said that sometimes employees from Merendino Corp. would supervise him as he worked.
Workers as the sole proximate cause of their injuries
New York's Scaffold Law provides broad liability for contractors and employers of workers injured in a fall or another gravity-related accident. One of the few defenses that companies can rely on to avoid liability is that a worker was the "sole proximate cause" of his or her injuries. In other words, the worker had the tools and equipment they needed to remain safe, and would not have been injured had they behaved reasonably.
Workers are often found to be the sole proximate cause of their injuries where the employer proves that they were provided with and instructed to use safety equipment, but the worker refused to use it without good reason. While there are many good reasons for workers to use the safety equipment provided to them on a job site, the fact is that, in the far-more-likely event that they're injured while not wearing provided equipment, they may find it difficult or impossible to receive compensation for their injuries.
In this case, the court ruled that Frank should have understood the risks he was taking in constructing a scaffold and used the readily-available safety harness. Frank had presented no reason why he could not have used the safety harness, and the judge was not convinced that anyone else was responsible for ensuring that he wore safety equipment while doing his job. The claim against Merendino Corp. was dismissed.
If you've been injured in an accident on a New York job site, find out if you have a right to collect money damages for your injuries by contacting the dedicated and skilled Manhattan construction accident lawyer Leandros A. Vrionedes for a consultation at 212-889-9362, or in Queens at 718-777-5895.