Court Dismisses Case Against Medical Device Maker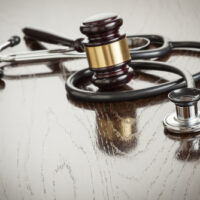 On December 2nd, the Supreme Court, New York County, granted summary judgment in favor of a pharmaceutical giant which was being sued for promoting the off-label use of its medical device in a way which harmed the patient. Although the manufacturer has been dismissed from the lawsuit, the case will continue against the doctors who administered the procedure and are being sued for medical malpractice.
The "device" at issue is Sculptra, an "injectable poly-L-lactic acid" which was approved by the FDA for "restoration and/or correction of the signs of facial fat loss (lipoatrophy) in people with human immunodeficiency virus." The plaintiff in this case, Pitkow v. Lautin, did not have HIV but instead sought Sculptra injections at a medical spa for cosmetic purposes. The maker of Sculptra, Aventis Pharmaceuticals, also markets Sculptra Aesthetic for cosmetic purposes, but at the time, the only product available was the Sculptra approved for patients with HIV.
The plaintiff, who did not have HIV but did have Multiple Sclerosis, reacted negatively to the procedure and sued the doctors for medical malpractice and lack of informed consent, while also suing Aventis on various product liability theories for negligently and recklessly encouraging the off-label use of its product and failing to warn that its use was contraindicated in patients with MS.
Aventis Moves to Dismiss
Aventis filed a motion for summary judgment, arguing that the plaintiff's state law claim is preempted by federal law. When Congress added medical devices to the regulatory authority of the FDA, it expressly legislated that states could not put restrictions on medical devices related to safety and effectiveness that are different from or in addition to the federal law. However, according to the Supreme Court in its decision in Riegel v. Medtronic, Inc., states can enact laws which run parallel to federal law, and injured plaintiffs can sue under those laws.
Unfortunately for the plaintiff, the court held that she did not establish how Aventis violated any federal regulation or a state law which was identical or genuinely equivalent (parallel) to federal law. True, Sculptra was only approved because Aventis represented to the FDA that is was only for HIV patients, but even if Aventis promoted its off-label use, that did not necessarily violate the law. In addition, even if Aventis violated the Medical Device Amendments to the Food, Drug and Cosmetics Act, only the FDA can sue for noncompliance with that law, according to Congress and the courts.
The case will proceed against the doctors for malpractice, one of whom has already filed a motion for summary judgment dismissing her from the suit. A hearing on that motion, scheduled for February, will be the next step in the case.