Contractor Pleads Guilty in Charges Connected to Scaffold Fall Death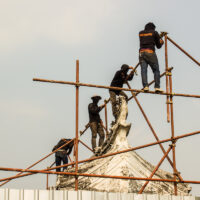 The subcontractor responsible for the 2017 death of a construction worker on a Manhattan job site has pleaded guilty to manslaughter charges. Read on to learn about the case, and contact a seasoned New York construction accident lawyer if you've been hurt on the job in Manhattan.
Building code-violating request results in death of father of five
On September 21, 2017, Juan Chonillo, a 44-year-old father of five, was working on a job site at 116 Maiden Lane in Lower Manhattan. He, along with several other employees, was working on a scaffold standing 29 floors up. A foreman for SSC High Rise, the subcontractor charged with pouring the concrete superstructure on the site, ordered that the scaffold be moved while the men remained working on it. This is despite the fact that building codes prohibit scaffolding from being moved while workers are still on the scaffold. The scaffold platform jammed while it was being moved, and Chonillo unhooked the harness he was wearing so that he could adjust the jammed platform. The scaffold then began to shake violently, and Chonillo fell to his death, 29 floors below.
Subcontractor faces hundreds of thousands in restitution and fines
As part of the Manhattan District Attorney's effort to crack down on construction site fatalities, the District Attorney's office filed manslaughter charges against SSC High Rise based on Chonillo's death. In the course of investigating the company, the DA's office also uncovered evidence that SSC had stolen over $515,000 in overtime wages from its workers between 2011 and 2017, as well as having underreported its payroll by almost $2 million to receive a reduced rate on its insurance premiums. On Friday, July 13, 2018, the company pled guilty to second degree manslaughter. The company also reached a plea agreement on the unpaid wages charge. SSC will be forced to pay $842,000 in restitution for unpaid wages, as well as a $10,000 fine, which is the maximum fine that a corporation can face for a felony charge.
In a public statement, District Attorney Cyrus Vance noted the injustice of this relatively-minor fine as a penalty for the death of an innocent man: "SSC High Rise stole half a million dollars from vulnerable workers, and then robbed Juan Chonillo of his life," DA Vance said in a statement. "It is unthinkable that after a preventable tragedy like the death of Chonillo — a father of five — the company faces a maximum penalty of just $10,000. This is pennies on the dollar compared to the potential profits on a high-rise construction job in a booming real estate market."
If you or someone you love has been injured in a New York construction accident, get help recovering the damages you deserve by contacting the seasoned, effective, and aggressive Manhattan construction worker injury lawyer Leandros A. Vrionedes for a free consultation at 212-889-9362, or in Queens at 718-777-5895.