Common Fatal Injuries After a Car Crash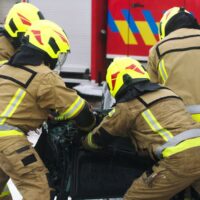 Car accidents can be devastating, and in some unfortunate cases, they are immediately fatal or lead to fatal injuries due to the crash. Although it goes without saying, death is listed first among the "serious injuries" that pull a case out of New York's no-fault insurance law and provide a cause of action against the negligent driver at fault for causing the crash. In the case of wrongful death, New York law allows for the recovery of funeral expenses, medical expenses, loss of future earnings and benefits, loss of companionship, compensation for the decedent's conscious pain and suffering, and other applicable damages for the benefit of surviving family members.
Below we discuss some of the most common fatal injuries people tend to suffer after a crash. If you lost a loved one in a car accident in New York, the law firm of Leandros A. Vrionedes, P.C. will diligently pursue a claim on your behalf to help you bring the responsible party to justice and obtain a significant amount of compensation to help you deal with the financial fallout of such a loss.
Traumatic Brain Injuries
Traumatic Brain Injuries, often referred to as TBIs, are among the most serious and potentially fatal consequences of car accidents. TBIs can occur when the head strikes a hard surface on the interior of the vehicle or when the crash causes an ejection from the vehicle.
TBIs are always a significant concern, and they can lead to severe consequences, including cognitive impairment, memory loss, and even death. Victims of car accidents must seek immediate medical attention to diagnose and treat TBIs properly. Bleeding in the brain, brain swelling, comminuted skull fractures and other medical issues must be promptly identified and addressed to alleviate suffering, achieve the best outcome, and prevent a fatality from occurring,
Spinal Cord Injuries
Car crashes can also cause spinal cord injuries, which can be life-altering or fatal. These injuries may lead to partial or complete paralysis, depending on the location and severity of the damage. Spinal cord injuries in the upper cervical (neck) vertebrae are most likely to be fatal if not treated promptly or eventually lead to death because of the injury's effects on critical life-sustaining activities like breathing and swallowing. Crash survivors with lower spinal cord injuries will likely incur substantial medical expenses and long-term rehabilitation and face a lifetime of additional challenges and costs that can be met if the proper support is provided.
Internal Organ Damage
Internal injuries can be deceptive, as they may not always be immediately apparent after a car accident. However, internal organ damage, such as damage to the liver, spleen, or kidneys, can be life-threatening if not diagnosed and treated promptly. It is essential for accident victims to undergo a comprehensive medical evaluation to detect internal injuries.
Chest Injuries
Chest injuries, including broken ribs and punctured lungs, are unfortunately common in car accidents. These injuries can be fatal, particularly if they impede proper breathing or cause severe internal bleeding. Seeking immediate medical attention is vital for individuals with chest injuries after a car crash.
Severe Bleeding
Severe bleeding is a life-threatening condition that can result from car accidents. Whether it's external bleeding from lacerations or internal bleeding from blunt force trauma, rapid medical intervention is essential to control bleeding and prevent fatal outcomes.
Multiple Fractures
Car accidents often lead to bone fractures, and multiple fractures can be particularly dangerous. In New York, where traffic congestion is common, multi-car collisions can result in severe fractures. These injuries can be fatal if they damage major blood vessels or organs. Likewise, a compound fracture can invite infections that could lead to life-threatening sepsis or osteomyelitis. A fracture is another injury that by definition removes the claim from New York's no-fault insurance law.
Pelvic Injuries
Pelvic injuries can be excruciatingly painful and life-threatening. In some cases, a fractured pelvis can cause severe internal bleeding or damage to nearby organs, which requires immediate medical attention and, in many cases, surgery.
Contact Leandros A. Vrionedes, P.C., for Dedicated, Compassionate Help After a Car Accident in New York
If you or a loved one has suffered serious injuries in a New York car accident, or if you lost a beloved family member in a fatal crash, the law office of Leandros A. Vrionedes, P.C., can help you find justice and compensation that helps you move forward as best as possible after such a devastating experience. Call 212-889-9362 for a no-cost consultation to discuss any potential claims you may have.