Claim for Birth Injuries Permitted to Proceed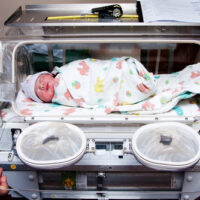 A panel of judges for the Appellate Division of the Supreme Court of New York recently denied a motion to dismiss claims brought on behalf of an infant who allegedly suffered injuries during her birth. The Appellate Division, First Department ruled that triable issues of fact existed as to whether the doctors attending to the mother's pregnancy and infant's delivery acted outside of standard medical practice when issuing care to the mother and then-fetus.
In the case of Destiny H. v. Bronx Lebanon Hospital, a mother, Carmen J., brought a claim for the injuries suffered by herself and her daughter against the hospital where she received treatment (Bronx Lebanon), as well as the doctors issuing her care, Richard Deveaux and Monica Simons. Carmen alleged in her lawsuit that the doctors had failed to observe and execute accepted medical practice, resulting in Destiny's health problems. Carmen had developed gestational hypertension during the 37th week of her pregnancy, but her doctors had allowed her pregnancy to proceed to full term nonetheless. Gestational hypertension is pregnancy-induced high blood pressure, and can cause serious health consequences for both the mother and fetus. Without proper treatment, hypertension can result in less blood reaching the placenta, and can also cause hypoxia, where too little oxygen reaches the fetus. This can result in permanent brain damage to a fetus. In fact, the baby in question experienced seizures two days after she was born.
The defendant doctors argued in a motion to dismiss the plaintiffs' claims that they had followed accepted medical standards in not performing a C-section either when they discovered the hypertension or when Carmen had yet to deliver a week after her due date, and presented a medical expert in support of these choices. However, the plaintiffs produced their own medical experts who presented evidence that the tests performed by doctors were insufficient, or that they showed evidence of brain damage which the doctors had failed to see, and offering evidence that the infant experienced brain trauma during her birth. The motion to dismiss was denied, and the mother and infant's claims will now move forward toward trial.
Many medical malpractice actions hinge on whether or not the doctors followed accepted medical practice when treating the patient, and whether the victim's injuries or poorer outcome were caused by those departures from standard medical practices. Successful medical malpractice claims often hinge on the testimony of expert medical professionals who can use a thorough knowledge of the relevant medical specialty to show that a reasonable doctor in the same position would have acted differently in that patient's case. Attorneys who win medical malpractice lawsuits must have a knowledge of the diseases and conditions in question, and be able to argue the significance of different methods of treatment in the outcome of a patient.
If you or someone you love has experienced an injury or unexpectedly poor health outcome as a result of negligent medical treatment in New York, ensure that you receive the compensation you're owed for your resulting injuries and contact experienced and compassionate New York City medical malpractice and birth injury attorney Leandros A. Vrionedes for a free consultation on your case, in Queens at 718-777-5895, and in New York at 212-889-9362.