Claim against NYCTA Moves Forward for Negligent Operation of a Train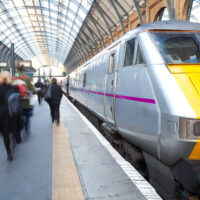 In a recent decision by the First Department of the New York Appellate Division, a woman's claim for damages against the New York City Transit Authority (NYCTA) will continue toward trial based on claims that a train driver's negligence caused the woman's injuries.
The case, titled Linhart v. Rojas, is based on an infamous and inexplicable assault committed on a subway platform in 2010. The victim, Ute Linhart, was waiting for her train on a Chelsea subway platform at rush hour when a stranger, José Rojas, "looked at [her] with what seemed like a crazy stare," she described at Rojas' trial. Rojas pushed the woman into an oncoming train, causing her to slam into the front corner of the first car and bounce back onto the platform. Linhart suffered a broken eye socket, shoulder and jaw, eight broken ribs, and punctured lungs, and spent the next eight days in the hospital.
Rojas, an off-duty sous chef, had explained that he had shared drinks with coworkers after his shift ended, and was found to have a blood alcohol level of twice the legal limit for driving. While he claimed the incident was unintentional, Rojas was eventually convicted of felony assault and sentenced to 15 years in prison for the attack.
Linhart filed a personal injury lawsuit against Rojas and the NYCTA based on her injuries. She claimed, among other allegations, that the driver of the train that hit her had committed negligent operation of the train by traveling at an excessive speed and failing to stop the train before it hit the plaintiff. By failing to operate the train according to the standard of a reasonable train operator in the same or similar circumstances, the NYCTA could be held responsible for a portion of Linhart's damages resulting from her injuries.
The NYCTA attempted to dismiss her claims but failed to address why the claim of negligent operation wasn't merited. Nevertheless, the Appellate Division considered whether Linhart's claim of negligent operation had sufficient support to move forward. According to evidence presented by the plaintiff, the train had adequate time to come to a stop before hitting the plaintiff. The train operator's testimony stood in complete opposition to that of the plaintiff; according to the Appellate Division, it seemed impossible that both the plaintiff and train operator's testimony could be accurate. The Appellate Division ruled that a jury should be tasked with deciding which account was truthful, and denied the NYCTA's motion to dismiss the plaintiff's claims.
If you or someone you love has been injured while a customer on New York public transportation, arrange a free consultation to find out if you are a candidate to file a claim for money damages by contacting the knowledgeable and trial-ready Manhattan personal injury attorney Leandros A. Vrionedes for a consultation, at 212-889-9362, or in Queens at 718-777-5895.