Can You Still Refuse to Consent to a Search?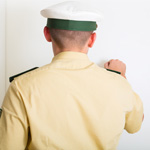 In a stunning decision by the Supreme Court this January, the court seems to be saying that a homeowner's refusal to give the police consent to enter the home can itself create probable cause allowing the police to enter the house without a warrant. If this is the case, can you ever again refuse consent to a search? Will police ever again need probable cause to conduct any search, or merely base their cause on your refusal to consent?
The case at hand is Ryburn v. Huff. In this case, police officers responded to a call from a high school where they were informed by the principal of a rumor that a certain student had written a letter threatening to "shoot up" the school. Police officers went to the boy's home to interview him. The boy and his mother stepped onto the porch to speak with the police, but when the police asked if they could continue the discussion inside the house, the mother refused. According to the testimony of one of the officers, it was "extremely unusual" for a parent to refuse such a request. According to the officers, when the police asked if there were any guns in the house, the mother "turned and ran" into the house, prompting the police to follow her into the house to protect the safety of themselves and others. But the mother's testimony says instead that she walked into the house after telling the officers she was going to get her husband.
The different accounts of the incident are a huge distinction. If officers had an objectively reasonable basis for believing they or others were in imminent danger, they had a right to enter the house without a warrant or probable cause. If, however, the police entered the home thinking that the mother's refusal to let them in created probable cause to believe that a crime has been or is about to be committed, then you could drive a truck through the hole in the Fourth Amendment this case creates.
One should be cautioned against thinking this decision establishes some sort of blanket rule allowing the police to enter any house on this basis. Every case turns on a unique set of facts. Here the court found many circumstances which could have reasonably led the police to believe that entering the house was necessary for the safety of themselves or others inside the home.
If you believe you have been subjected to an illegal search in New York City of your home, your car, your person or property, contact Leandros A. Vrionedes, P.C. for a free consultation regarding a possible violation of your civil rights.