Tragic Crash on Pennsylvania Turnpike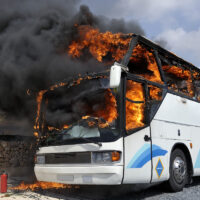 Early Sunday morning, a tour bus carrying dozens of passengers from Chinatown in New York to Cincinnati, Ohio, crashed on the Pennsylvania Turnpike in Mount Pleasant, Pennsylvania, about 40 miles outside of Pittsburgh. The bus driver apparently lost control of the vehicle while negotiating a corner on a downhill grade. After rolling over and coming to a stop on its side in the middle of the highway, the bus was struck first by a tractor-trailer and then impacted again as a second semi crashed into the first. Dozens of people were reportedly injured in the chain reaction that tragically took the lives of five people involved in the crash.
Sixty people were sent to three different hospitals in the area following the crashes. Although a couple of people arrived at the hospital in critical condition, most of the injured passengers were treated and released.
As of this writing, five persons have been confirmed dead from the crash. Among the casualties were the driver of the bus and two passengers, one an adult and the other a nine-year-old boy. The bus driver and passengers hailed from Flushing, Brooklyn and the Bronx in New York City. The other fatal accident victims were two UPS drivers traveling together in one of the semi-trucks. It appears a FedEx tractor-trailer first collided with the bus, which was lying perpendicular in the highway after coming to rest on its passenger side. The UPS semi then struck the FedEx 18-wheeler.
Why do buses rollover?
A rollover accident is possible with any motor vehicle, but the reasons why rollover accidents happen make them even more likely to occur with a bus. The main reasons for vehicle rollovers are:
Vehicle design –Vehicles with a high center of gravity are more likely to tip and roll over. These include SUVs, pickup trucks, semi-trucks and tour buses.
Speed – Taking a turn or colliding with another vehicle or fixed object at high speed is more likely to cause a rollover. Most rollover accidents occur at speeds of 55 mph or more. Interstate tour buses like the one involved in this accident spend most of their time traveling at highway speeds, and drivers may sometimes risk unsafe speeds to stay on schedule and make up for time lost on a stop or rest break.
Weather – Rain, snow and ice can all make it harder for tires to maintain a grip on the road. When combined with a sudden swerve, stop or high-speed turn, the weather can contribute to a driver's loss of vehicle control and increase the chances of a rollover. When reached for comment by a local news station, the owner of the bus tour company speculated that weather might have been the main factor contributing to the accident.
"Trips" in the roadway – Medians, curbs and guardrails can initiate a rollover if a bus, truck or other vehicle hits these so-called trips, especially at high speed. Other road conditions such as potholes and uneven pavement can start a rollover as well. Road engineers and construction companies should consider the dangers of rollovers when designing roadways, and the entities responsible for maintaining the roads must devote adequate resources to keeping road surfaces safe.
Driver actions – Suddenly jerking the wheel is a major contributor to a rollover accident, especially for top-heavy vehicles traveling on the highway. Bus drivers who are not adequately trained or rested, or who are driving while distracted, may overreact to a change in traffic or object in the road, turning a dangerous crash into a deadly rollover. According to reporting by Pittsburgh's Action News channel, the bus company in this accident, Z&D Tour, Inc., was not involved in any crashes or issued any citations in the past two years, although the company did receive three citations in 2015.
Rollover crashes are among the deadliest crashes
Rollovers have a higher rate of fatalities than other types of crashes, according to the National Highway Traffic Safety Administration (NHTSA). Taking 2010 as an example, only 2.1% of all passenger car, SUV, pickup and van crashes that year involved a rollover, yet rollovers accounted for almost 35% of passenger vehicle fatalities that year. A majority of those killed were not wearing seatbelts.
The NHTSA now requires motorcoaches and other commercial buses to provide three-point lap-shoulder belts, but this rule is only a few years old and only applies to new buses; existing bus fleets are not required to retrofit their vehicles with seat belts.
Accident under investigation, may take weeks, months
Highway crashes like this one are typically investigated by the National Transportation Safety Board (NTSB), which regularly investigates aviation accidents and rail accidents but only examines the most serious, deadly multi-car highway crashes. The NTSB quickly dispatched a Go Team from Washington, D.C., which was on-site within hours of the accident. The NTSB will likely stay on-site to investigate for a week or more, collecting facts and perishable evidence. The NTSB team divides into working groups in different areas of expertise and will be investigating factors such as road design, driver performance, motor carrier compliance, weather, and survival factors. A preliminary report may be issued in a few days, but it may be many months before a probable cause determination is made and a final report issued.