Appellate Division Outlines Limits of Protections Afforded Workers under New York's Scaffold Law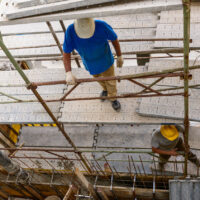 In a recent Appellate Division opinion, Garbett v. Wappingers Central School District, the court ruled that an injured worker's claims based on injuries suffered from a falling boiler component did not clearly fall under the protections of New York's scaffold law, Labor Law § 240(1). Nevertheless, the judges, based in the Second Department and covering Brooklyn, Queens, Staten Island, Nassau and Suffolk counties, denied a motion that would have dismissed the claim.
The accident victim and plaintiff, Thomas Garbett, was an employee of Siteworks Services and part of a team servicing a boiler on a property owned by Wappingers Central School District (Wappingers). A section of the boiler made of cast iron fell on Garbett's foot during the repair process, resulting in serious injuries. Garbett filed a lawsuit against Wappingers based in part on Labor Law § 240(1), also known as the Scaffold Law. Garbett filed a motion for summary judgment on the § 240(1) claim, asking the court to rule prior to trial that Wappingers was liable under the Scaffold law and leaving only the issue of money damages to be decided. Wappingers filed a motion for summary judgment that would have dismissed Garbett's claim against it. The trial court denied both Garbett's and Wappingers' motions, and both parties appealed these decisions.
§ 240(1) states that property owners and contractors have absolute liability for workers' on-the-job injuries suffered as a result of elevation-related hazards while workers are engaged "in the erection, demolition, repairing, altering, painting, cleaning, or pointing of a building or structure." In its opinion, the Appellate Division explained that liability for a violation of § 240(1) doesn't only exist in cases where an object or worker has fallen, but rather any time a worker was hurt as "the direct consequence of a failure to provide protection against a risk arising from a physically significant elevation differential." This liability can arise when an object is being lifted over the worker's head, or where, "at the time the object fell, it required securing for the purposes of the undertaking." (Internal quotations omitted.)
The Appellate Division noted several questions about whether § 240 (1) applied to Garbett's claims that would need to be resolved by a trial. First, the court explained that the accident may not have occurred under circumstances protected under § 240(1). A custodian at the school where Garbett was injured testified that he was not aware of any problems with the boiler being repaired, and asserted that the boiler was subjected to similar cleaning and refurbishing each year. If the boiler were merely being maintained, this would not provide for liability under § 240(1).
Additionally, the court pointed out that there were questions as to whether the piece of the boiler that fell actually required securing, or whether it fell despite the fact that appropriate securing measures had been used. If Garbett and his team had, in fact, received all necessary equipment to protect their safety, then a claim for damages under § 240(1) would fail. The Appellate Division concluded that a judge or jury would need to address these questions before a conclusion could be made on whether Wappingers was liable for Garbett's injuries under § 240(1).
If you've been injured in an on-the-job accident in New York, find out if you have a claim for money damages by contacting the experienced and professional Manhattan construction injury lawyer Leandros A. Vrionedes for a free consultation on your case at 212-889-9362, with additional offices in Queens at 718-777-5895.