Appellate Division Determines Jury Award to Injured Plaintiff is Insufficient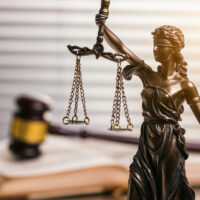 The justice system is limited in what it can do to make an accident victim whole after a life-altering event like a serious physical injury. Judges and juries assign a numerical value to the plaintiff's injuries which both compensates the victim for the injury-related expenses they've incurred, and provides additional compensation for their pain and discomfort due to their physical injuries.
When a personal injury plaintiff who goes to trial on a claim for damages is successful, the jury then has the unenviable task of calculating the amount of money the plaintiff is owed for lost income and the pain they had and would suffer due to their injuries. Legal standards exist to make these calculations, but they're inexact, and juries don't always get it right the first time. In a recent case before the Second Department of the New York Appellate Division titled Gorman v. Matthew, the judges determined that a jury had awarded too small an amount to compensate the plaintiff for his pain and lost work after a motor vehicle accident. The Second Department covers Staten Island, Brooklyn, Queens, and Nassau and Suffolk counties, among others.
James Gorman, the plaintiff, was injured in an accident caused by Stacy Lynn Matthew. Gorman suffered a fracture in his heel in the accident. This injury required him to undergo surgery, which involved steel plates being attached to his heel using metal screws. Five months post-surgery, Gorman was still off work. His job involved physical labor, and no light-duty positions were available to him. While Gorman "generally felt better," he still had difficulty moving, according to his physician. Being unable to return to work, he was forced to retire over two years earlier than scheduled. Gorman had earned a total annual salary of $149,140 prior to the accident.
Gorman and his wife filed a claim against Matthew for his lost wages, past and future pain and suffering, and loss of consortium. After a successful trial, the jury awarded Gorman $15,000 for past pain and suffering, $80,000 for future pain and suffering, and $146,740 for past loss of earnings. Gorman appealed the decision, arguing that the awards for past pain and suffering and past loss of earnings were too low.
The Appellate Division judges agreed with the plaintiff. The opinion pointed out that Gorman's surgery required the insertion of hardware, and that $15,000 was not adequate to compensate the plaintiff for this painful procedure. In support of this decision, the opinion referred to the decision in a past case, Vincent v. Landi, where the plaintiff suffered similar injuries to Gorman and was also successful in appealing a modest award of money damages. The court explained that, when calculating pain and suffering damages, the process should include "analyzing comparable cases, taking into account the nature, extent and permanency of the injuries, the extent of past, present and future pain and the long-term effects of the injury." (Internal citations omitted.) Courts will consider evidence such as the pain involved in the injury itself, the difficulty and discomfort caused by any surgeries the plaintiff was forced to undergo, and the extent to which the plaintiff was forced to give up hobbies or sports that they once enjoyed. While this is by no means an exact method of calculating how much a person's pain is worth, awarding damages based on examining the plaintiff's lifestyle and by considering previous court awards for similar injuries promotes fairness for the losses the plaintiff suffered and consistency between similarly-injured victims.
The Appellate Division also ruled that Gorman should receive two, not one, year's worth of past wages, finding no basis for the jury's decision to award him only one year's lost wages since he was forced to retire two years earlier than planned. The Appellate Division ordered that, if the defendant didn't agree to an increase in the award of lost earnings to two years' worth of wages ($298,280) and an increase in past pain and suffering to $75,000, then the parties would need to conduct a new trial that focused only on damages.
If you or someone you love has been hurt in an accident in New York, find out if you may be owed money damages for your losses by contacting the Manhattan offices of personal injury attorney Leandros A. Vrionedes for a free consultation on your case, at 212-889-9362, or in Queens at 718-777-5895.