Appeals Court Reinstates Bronx County Medical Malpractice Birth Injury Case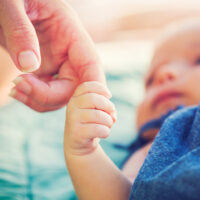 Last month, the New York court of appeals reversed the 2013 decision of a Bronx County trial judge who had dismissed a medical malpractice birth injury case based on the defendant hospital's motion for summary judgment (judgment without a trial). The appeals court held that the plaintiff had raised sufficient questions so that there should be a trial to determine whether the hospital departed from accepted medical practice and thereby caused the birth injuries.
The case of Anyie B. v. Bronx Lebanon Hospital alleges medical malpractice during labor and delivery. Specifically, it was alleged that the doctor failed to properly monitor the fetal heart rate in light of the mother's low amniotic fluid and failed to perform a timely Caesarian section. These failures created ischemic hypoxia (lack of oxygen to the brain), which caused cerebral palsy and a host of other severe neurological injuries and irreparable brain damage.
In their motion for summary judgment, the defendants presented testimony from their medical experts arguing that there was no evidence of hypoxia during labor and delivery and no connection between any alleged departure from accepted practice and the baby's injuries. These claims were based on the assertion that the baby was healthy at birth. The trial judge granted the motion and dismissed the case, holding that there were no issues of fact on causation to be tried, even though the "plaintiff may have established a question of fact regarding the existence of hypoxia."
Questions about medical malpractice should be heard in court
In a motion for summary judgment, the defendant has to show that the doctor did not depart from good and accepted medical practice, or that the departure was not the cause of the injuries. The plaintiff can oppose the motion with medical evidence, such as a medical expert opinion, that shows the connection between the malpractice and the injury.
In this case, the plaintiff presented the testimony of two different medical experts, one who was board-certified in obstetrics and gynecology, and another certified in pediatrics and psychiatry and neurology with a special qualification in child neurology. These experts raised questions about both the departure from accepted practice and its likely cause of the child's birth injuries. The appeals court reversed the trial court, deciding that the case should not have been dismissed and a hearing should be held so a jury can decide whether the doctor and hospital should be held liable for the injuries.