Another Hoverboard Causes a Fire in New York, Despite Ban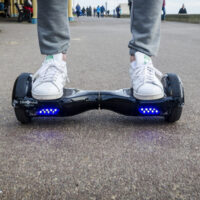 Hoverboards remain illegal to ride on New York City streets, but not illegal to own, and the dangerous devices are being blamed for multiple recent fires in the New York area. Most recently, a fire broke out in a Staten Island home when a charging hoverboard burst into flame. This is the third residential fire to occur in the New York Metropolitan area that is a result of a charging hoverboard, and follows a fire started in Crown Heights, Brooklyn, in late December.
New York residents have already begun to take legal action against what they allege to be defective hoverboards, with one man filing a federal lawsuit against the manufacturer and retailer of an incendiary hoverboard. Michael Brown, of Chappaqua, purchased a hoverboard for his eight-year-old daughter as a Hanukkah present. After the gift was opened and used for about 30 minutes, Brown plugged it in to recharge. Within 45 minutes of doing so, the board caught fire, damaging a portion of his home. Brown has filed a lawsuit against Swagway, the manufacturer of the hoverboard he purchased, as well as Modell's Sporting Goods, where he purchased the device, on behalf of all purchasers of Swagway hoverboards nationwide, and on behalf of all those who purchased the boards from Modell's.
Hoverboards, more accurately known as self-balancing scooters, are powered by lithium-ion batteries. The batteries themselves, as well as the wiring connecting them to the device's chargers, have been targeted as the cause of the fires, and the target of investigations into the safety of the devices. The Consumer Products Safety Commission (CPSC) has so far received at least 37 reports of fires started by hoverboards which they are currently investigating. The CPSC has also begun conducting its own experiments on hoverboards, to determine whether the devices are too unsafe to remain on the market. Prior to the Christmas holiday, Amazon stopped selling nearly all of the hoverboards that had been available for sale on the site.
The British equivalent of the CPSC, known as the National Trading Standards, began receiving troubling reports of the fire risks of hoverboards months ago, and has recalled some 90% of all hoverboards that were imported into the UK since October of 2015. At least 60 airlines have banned hoverboards from their aircraft, either as stowed or carry-on luggage, out of fear of the batteries exploding during flight. While the CPSC has not yet issued a recall of the boards, it strongly cautions owners to only purchase hoverboards from a reputable retailer, and to monitor the devices carefully while they charge.
If you have been injured or experienced property damage as a result of a defective hoverboard, contact experienced New York personal injury attorney Leandros Vrionedes for a consultation on your case, at 212-889-9362.