Accidents Can Result in Complex Regional Pain Syndrome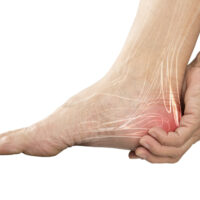 If you've been involved in a motor vehicle accident, one of the main reasons why it's critical to obtain an examination from a knowledgeable physician is that some of the conditions caused by injury accidents may masquerade as other conditions. If pain lingers after an accident, there may be more to blame (and more to treat) than the obvious injuries that arose from the accident. One such condition is Complex Regional Pain Syndrome. Read on to learn more, and speak with a knowledgeable Manhattan personal injury lawyer after an accident.
CRPS defined
Complex Regional Pain Syndrome, or CRPS, is a disease which primarily affects victims of traumatic injuries. Victims suffer from a burning, prickly, or squeezing type of pain in one of their extremities, such as a finger, arm, leg, or foot as a result of damage to nerves or the nervous system. Medical experts describe the condition as the body producing a physiological over-reaction to an injury. Blood tests of those with CRPS often show an overproduction of cytokines, an inflammatory chemical the body typically produces when fighting off a virus or bacteria.
There are two forms of CRPS:
CRPS-I: This type, formerly called Reflex Sympathetic Dystrophy (RSD) syndrome, develops without any diagnosed nerve damage.
CRPS-II: This type, formerly known as Causalgia, is diagnosed when doctors have identified nerve damage.
Symptoms of CRPS
The leading symptom of CRPS is pain that is ongoing and severe, with the condition lasting anywhere from a few months to years. Some CRPS sufferers will be forced to go on long-term disability due to the disorder. Patients may notice inflamed, discolored skin at the site of the pain, as well as skin that is thin and shiny. Some patients will have poor circulation at the site of the injury, causing skin to become blue, purple, or pale, as well as causing temperature regulation issues. Other common symptoms include difficulty with muscle coordination or joint swelling, abnormal hair or nail growth, severe sensitivity when the area is touched (allodynia), or tremors and jerking.
Who CRPS afflicts
CRPS is caused most often by a serious injury, such as a fracture, burn, cut, sprain, strain, or prolonged immobilization of a limb, as in a cast. Personal injury victims, such as those who are the victim of a motor vehicle accident or medical error, often suffer these sorts of injuries and stand at risk of developing CRPS. Those accident victims may then not only have a claim for the initial injury, but also for the costs of treatment and pain and suffering damages stemming from CRPS.
If you've been hurt in an accident in New York and need help seeking the damages you're owed for your injuries, contact the knowledgeable and experienced Manhattan personal injury lawyer Leandros A. Vrionedes for a consultation on your claim, at 212-889-9362, or in Queens at 718-777-5895.