$5.85 Million for Worker Injured by Faulty Staircase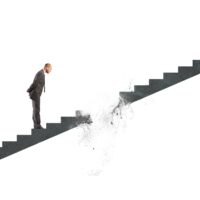 A man injured on a New York construction site has recently been awarded a $5.8 million settlement after on-the-job injuries left him unable to work. Read on to learn about the case, and contact a seasoned Manhattan construction injury attorney for more information if you've been hurt on the job.
Weak step causes eight-foot fall
59-year-old Charles Eastwood was a worker on a Queens construction site on the day of his injury. Eastwood, an elevator mechanic by training and experience, was working on the elevator motor room above the roof of the 16-story Carlyle Skyline Towers in Flushing, destined to become an apartment building. After completing his work in the elevator motor room, Eastwood walked on a landing above a staircase that headed down to the building's roof. When he stepped on the top step, it broke under his weight. Eastwood fell through the stair down to the roof, eight feet below him.
Lawsuit against building owner and manager for fall injuries
Eastwood incurred serious injuries to his knee and lower back in the fall. Even after undergoing five separate surgeries, he has been unable to return to work. Eastwood filed a lawsuit against the building's owner, Woodner Properties, and its operator, Metro Management Development Corporation. Eastwood alleged that the defendants had been negligent in failing to maintain the staircase in a reasonably safe condition for the workers on that project.
Eastwood's case went to trial before a jury in the New York Supreme Court in Queens. The jury concluded that the defendants were, in fact, negligent in maintaining the safety of the staircase. After the jury presented its verdict, the parties engaged in settlement negotiations on what Eastwood was owed for his fall injuries. The parties reached the total settlement amount of $5.8 million as compensation for what in all likelihood might be a lifetime of being unable to work again for Eastwood. The parties agreed that the manager of the Carlyle Skyline Towers, Metro Management, would cover the bulk of the award; they agreed to pay Eastwood $5.5 million. The building's owner, Woodner Properties, agreed to pay $325,000. Eastwood's attorney explained, "You can't give somebody back his health, so you have to reward him with money, but it's a poor substitute. At least he's got a measure of financial security, given that he can't work."
If you've been seriously injured on the job in New York, get help seeking damages from a seasoned professional by contacting Manhattan injury accident lawyer Leandros A. Vrionedes for a free consultation at 212-889-9362, or in Queens at 718-777-5895.