Lawsuit Moves Forward against Employer for Accident Near Company Property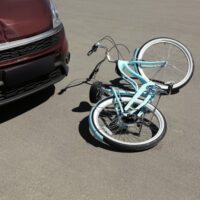 Premises liability claims are based on the principle that property owners failed to uphold their duty to prevent visitors from becoming injured while on their property. A recent case before the Supreme Court of New York in Tompkins County asked the judge to decide whether an accident victim could seek damages from a property owner for injuries received in an accident near, but not on, their property.
Merging accident takes life of cyclist
The case, titled Giannelis v. Borg Warner Morse Tec, Inc., was based on a fatal accident in Ithaca, New York. The victim, Harriet Giannelis, was riding her bike along Warren Road, which ran along the Borg Warner property, at the time of the accident. As Giannelis was riding along this street, driver and defendant Kelly Elliott was exiting the Borg Warner property via the property's exit control gate, using the lane coming from the property that merged into Warren Road. Elliott failed to notice Giannelis on her bicycle and struck and killed the cyclist.
Emmanuel Giannelis, as executor of Harriet's estate, filed a claim against both Elliott and Borg Warner for negligence. Borg Warner filed a motion for summary judgment dismissing his claims, arguing that Borg Warner did not have a duty to prevent injuries to those on a public roadway near its property, nor to warn them of hazardous conditions. Giannelis argued that Borg Warner had created the dangerous condition that caused Harriet's death, and as a result was responsible for these injuries.
Claims against neighboring property owners allowed only in exceptional cases
In his opinion, the judge pointed out that "The general rule is that an owner of land abutting [public property] does not, solely by reason of being an abutter, owe to the public a duty to keep the [public property] in a safe condition." In other words, property owners don't have to keep an area safe just because the general public may be traveling nearby. There is an exception to this rule that imposes liability for accidents when the plaintiff can prove that the land owners caused a dangerous condition. In this case, Giannelis argued that Borg Warner had done or failed to do a number of things that made its exit gate dangerous to the public. Namely, Borg Warner had installed a gate that didn't effectively control exiting cars; it failed to instruct employees on how to safely exit the parking lot; it installed a yield sign rather than a stop sign near the merge lane, giving drivers the impression that they did not need to come to a full stop; and it had allegedly allowed shrubs and trees to grow that obscured exiting employees' view of traffic.
Claim against property owner moves forward
The judge concluded that the plaintiff had produced enough support for its argument that Borg Warner created a danger to allow the claim against the company to move forward. The judge noted that as an employer, Borg Warner could have used its influence over its workers to instruct its employees on how to safely exit the gate; in fact, the company had done so in regard to other gates on the property.
The judge also pointed out that, while the company might not have been obligated to install a traffic control sign at the property's exit, nor ensure that employees obeyed it, the fact that it chose to install a yield sign may have resulted in the imposition of a duty on the company. The company could be seen as implying that there was no need to come to a stop before exiting, which could have contributed to the accident that killed Harriet. For these and other reasons, the judge determined that a claim for damages against Borg Warner could move forward.
If you've been the victim of a New York bicycle accident and need help getting money damages to cover your medical bills and lost wages, contact the knowledgeable and effective Manhattan personal injury lawyer Leandros A. Vrionedes for a free consultation, at 212-889-9362, or in Queens at 718-777-5895.