Wrongful Death Award Highlights High Standard Required to Receive Damages for Pre-Impact Terror and Conscious Pain and Suffering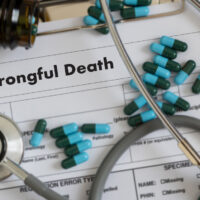 A jury award to the heirs of a bus accident victim, recently upheld but modified on appeal, goes to illustrate the amount of evidence New York courts will require to prove that damages for pre-impact terror or conscious pain and suffering are warranted.
The lawsuit in question was on behalf of Virginia McKibbin, a 65-year-old grandmother and Brooklyn resident who was killed while crossing the street on the evening of December 2, 2009. A New York City Transit Authority (NYCTA) bus, turning right at a red light, had failed to see McKibbin in the sidewalk and struck her. McKibbin was immediately rendered unconscious and was declared dead upon arriving at the hospital.
McKibbin's daughter, acting as McKibbin's personal representative, brought a wrongful death lawsuit against the NYCTA and the bus' driver, asserting claims for damages for pecuniary losses, as well as for McKibbin's pre-impact terror and pain and suffering before her death. After hearing testimony from experts and the bus driver, the Kings County jury concluded that McKibbin had been 25% responsible for the accident that resulted in her death. Under the theory of comparative negligence, this results in a reduction in the amount of an award for damages by the share for which the victim was responsible for the injuring event. After hearing testimony regarding McKibbin's closeness to her daughters, including the financial and emotional guidance she offered, as well as babysitting services provided for her grandchildren, the jury awarded $1.2 million in pecuniary damages to the deceased woman's family, which would be reduced by 25%. However, the jury declined to award damages for pre-impact terror or conscious pain and suffering, and the family appealed.
Pre-impact terror
Pre-impact terror describes the fear and emotional distress that a victim experiences in the moments after the victim realizes that they're about to experience a serious injury, and the moment of injury itself. Claims for pre-impact terror are one of the ways that New York courts compensate the families of accident victims for emotional trauma, since New York courts do not award damages to the families of wrongful death victims for their emotional suffering, as do many states' courts. Not all wrongful death victims experience the sort of accident that includes pre-impact terror, however, and courts require some evidence that the victim was aware of the harm that would soon befall him or her before such damages will be permitted. For example, a pedestrian who was wearing headphones and was struck from behind without seeing the vehicle would not be a candidate for pre-impact terror damages, while a victim who was pushed from a great height would. In the case of McKibbin, the plaintiffs could not conclusively show that she knew she was about to be hit by the bus. The bus driver even testified that he heard a scream before he felt the impact of hitting the woman, but there was no evidence that the scream came from the victim, so this did not turn out to be sufficient evidence for the jury that the pedestrian knew she was about to be hit. The Appellate Division agreed with this conclusion.
Conscious pain and suffering
The McKibbin family also appealed the decision not to award damages for McKibbin's conscious pain and suffering, intended to compensate families for the moments that the victim spent alive after being injured, but before dying. New York law dictates that these damages are only available where the victim was conscious and in great physical pain for a time before dying, and did not suffer such great brain damage in the accident that they were unable to feel. In this case, there was conflicting testimony from experts who had the opportunity to examine McKibben and analyze the testimony of those who came to her aid at the scene as to whether or not she was conscious after the accident. This led the jury to refuse to award those damages, a decision which the Appellate Division upheld on appeal.
If you or someone you love has been injured in an accident in New York, or if you have tragically lost a loved one due to another person's negligence, seek experienced, determined legal assistance in recovering the damages you're owed by contacting personal injury attorney Leandros A. Vrionedes for a consultation on your case, in Manhattan at 212-889-9362 and in Queens at 718-777-5895.