Victim of Bus Accident Awarded $14 million by Jury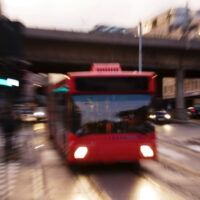 Successfully fending off claims that the accident was made up as a way to collect millions of dollars in damages that he didn't deserve, the victim of a 2008 bus accident has finally received a jury award in his favor. The man's professional and personal lives were permanently altered when a bus hopped the curb and crushed his foot.

Hit-and-run bus accident
The accident victim, William Tate-Mitros, was walking down First Avenue in Manhattan on his way to catch a bus at the time of the accident. An M15 bus suddenly jumped a curb, ran over the front two inches of Tate-Mitros' foot, and kept driving. Tate-Mitros needed three separate reconstruction surgeries on his foot after the accident, but due to risk of infection, doctors were unable to treat nine of the fractures in his toe bones.
Increased pain and reduced mobility leads to early retirement
Prior to the accident, Tate-Mitros, then 61, maintained a "socially active" lifestyle, according to his attorney. He worked as an interior designer for both The New York Times and private clients, and enjoyed ballroom dancing and ice skating in his off hours. After the surgeries, the pain in Tate-Mitros' foot increased, despite his efforts at rehabilitation. He was forced to use a walker and cane, and gave up his work as an interior designer. In 2012, Tate-Mitros suffered a minor stroke, which increased his difficulty walking and forced him to move into a nursing home.
Retrial allows critical biomechanical expert testimony
The recent jury verdict in Tate-Mitros' favor, issued in the case titled Tate-Mitros v. MTA New York City Transit, was the result of a second trial against the Transit Authority. The first trial, which was held in 2014, had resulted in a verdict for the defense. The NYCTA had argued that, based on the type of injuries Tate-Mitros suffered and the fact that he did not have tread marks on his foot, he had made up the bus accident entirely, and that something smaller must have run over his foot. Tate-Mitros had consulted with a biomechanical expert who was prepared to testify in support of Tate-Mitros' version of events. However, the judge in his first trial had barred this testimony, and the jury sided with the defense's explanation.
Tate-Mitros appealed the result of the first trial, and the Appellate Division agreed with him, reversing the decision that prevented his expert from testifying. Once the jury was able to hear testimony from the biomechanical expert, they found in the victim's favor. Tate-Mitros was awarded $7 million in damages for the past nine years, and $7 million for the next ten years of his life.
For a free consultation after an accident in New York, contact the dedicated, effective, and trial-ready Manhattan personal injury lawyer Leandros A. Vrionedes for a consultation, at 212-889-9362, or in Queens at 718-777-5895.