Truck Accidents Happen Everywhere In New York City, Even Inside Your House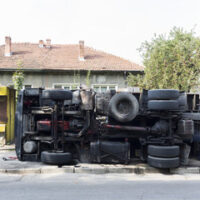 Providing an unusual illustration of the dangers of truck accidents in New York City, a huge tractor-trailer recently crashed into several homes in a Staten Island neighborhood. Continue reading for more about the accident, and contact a skilled New York truck accident lawyer with any questions about a truck-related injury.
Truck crashes in residential Staten Island neighborhood
Residents of a Mariners Harbor neighborhood woke up early Monday morning on September 17 to the sounds of a tractor-trailer crashing into the houses along the street. The 54-year-old driver of the massive 18-wheeler was hauling a full load of construction material around 6 a.m., traveling northbound on South Avenue near Arlington place, when he "got distracted," lost control and jumped the curb. The truck hit several parked cars, plowed through an iron fence, and crashed into three houses in the neighborhood before eventually resting in the front yard of one of the homes.
Remarkably, the only person injured was the driver, and his injuries were not described as severe by responders. Residents were thankful no one else was hurt. Responders evacuated four buildings, and an FDNY hazmat unit had to remove around 280 gallons of diesel fuel from the truck to alleviate further danger. As of Monday morning, responders said it would take several hours to remove the truck based on its sheer size and heavy load.
Truckers' liability for damages or injuries caused in a crash
Whatever caused the driver to lose control was not immediately clear. Residents of the area said that "big rig" drivers often speed over the stretch of road near the neighborhood, one person noting that they can "hear their loads shift." One resident stated that this was not the first time; a security van "went through [his] front yard and broke [his] railing two years ago."
Trucking safety has become a growing problem in recent years; federal statistics show that the number of fatal crashes involving large trucks or buses increased by 28 percent from 2009 to 2016, and the number of injury crashes has also risen significantly during this period. In this case, though no one was fatally injured, the driver of the tractor-trailer and his employer are likely liable for the damage caused to the cars, homes, and any other property. If the driver was acting negligently, or if there was a safety problem with the truck itself, the driver and/or his employer may face larger punitive damages.
If you or a loved one has been injured in a New York trucking accident, get help seeking damages from a seasoned professional by contacting Manhattan injury accident lawyer Leandros A. Vrionedes for a free consultation at 212-889-9362, or in Queens at 718-777-5895.