Times Square Hotel Ironworker Shocked by Violations of Safety Regulations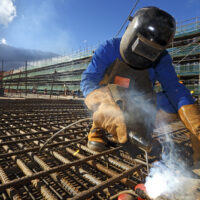 Even without a trial, a judge has ruled that the owner and contractor on a New York City construction project are liable as a matter of law for the injuries sustained by an ironworker who received multiple electric shocks while bolting up the roof on a Times Square hotel construction project.
Matthew Buckley was standing on a scissor lift inserting bolts into the top-floor ceiling above him to secure a curtain wall being placed around cooling units on the roof. Unfortunately, a live electrical conduit was running through the concrete where Buckley was instructed to bolt, and the contact delivered a 480-volt shock that knocked him unconscious and left him dangling from his safety harness. A second shock moments later knocked him to the floor of the scissor lift.
Buckley sued the owner of the building, the general contractor, and the electrical subcontractor under several aspects of New York Labor Law, including section 241(6). This law requires owners and contractors to provide reasonable and adequate protection and safety to workers, including complying with New York safety rules and regulations. The plaintiff and the defendants filed several motions for summary judgment, which were disposed of on July 29 by Judge Madden in the New York County case of Buckley v. WEST 44th ST. HOTEL LLC.
The judge granted the plaintiff's motion for liability against the owner and contractor under Labor Law section 241(6), which in turn was based on the violation of two New York Codes, Rules and Regulations, namely 12 NYCRR 23-1.13(b)(3) and (b)(4), both covering electrical hazards. Section (b)(3) requires investigation and warning of electric power circuits, and (b)(4) requires that such circuits be de-energized, grounded or guarded by effective insulation or other means before construction work is performed.
Since the facts were not sufficiently disputed that the owner and contractor were in violation of these rules and regs, the plaintiff was entitled to judgment as a matter of law.