What to Do After Falling Off a Ladder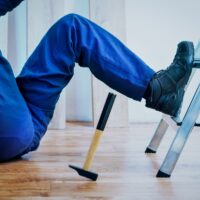 Falling off a ladder can lead to serious injuries. You could break an arm or a leg, suffer damage to your spinal cord, or even incur traumatic brain injury. If you fall off a ladder on a construction or at the workplace, there are important steps to take to preserve both your health and your legal rights. Read on for tips on what to do after falling off of a ladder, and call a seasoned Manhattan workplace injury attorney if you or someone you care about has been hurt in a ladder fall in New York City.
Report the Accident
If you were injured at work, make sure to report the accident to a supervisor or to the Human Resources department before you leave the premises. You will need proof the accident occurred in order to file for workers' compensation or hold the property owner or developer liable.
Identify Witnesses
Look around and identify any witnesses who saw your fall. Make sure to include them in your report, and if they are not co-workers, get their contact information. Their testimony may help your eventual workers' comp or injury claim.
See a Doctor
As soon as possible after the accident, go to a doctor. If you are seriously injured, you should accept emergency medical treatment and go to the hospital; take the ambulance ride. If you do not appear to have critical injuries, you should still see a medical professional as soon after your accident as you can.
You may have hidden injuries such as internal bleeding, organ damage, or a concussion. Additionally, the sooner after your accident you get a diagnosis, the stronger your legal claims will be. If you wait a few days to see a doctor, a workers' comp insurance provider or defense attorney may try to claim you suffered your injuries in a different event.
Save the Ladder
If you were hurt at work, you are covered by workers' compensation. However, you might have additional claims for damages. If the ladder was defective, for example, you could have a claim against the manufacturer. If the party in charge of a construction site provided a ladder that was beyond its useful life and unsafe, you likely have a New York Labor Law claim as well. Save the ladder so that your attorney can examine it for defects.
Call a Construction and Workplace Accident Lawyer
The best way to ensure that you secure the maximum available compensation after a ladder fall is to retain a seasoned New York injury attorney as soon as you can after your accident. Your personal injury attorney will help you navigate your workers' comp application, negotiate with insurance companies, and find out if you have any additional claims or parties to pursue.
If you or a loved one has been injured in a New York City ladder fall and you need seasoned and effective representation to pursue your claims, contact the Manhattan workplace accident lawyer Leandros A. Vrionedes for a free consultation on your case at 212-889-9362.