Can I Sue an Auto Repair Shop Mechanic for Negligence?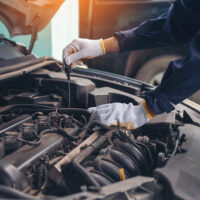 The typical car accident injury claim involves one driver (and/or its occupants) suing another driver for negligence. The defendant driver is liable when their negligence causes a car accident with the plaintiff's vehicle. Not every car crash is caused by a driver's negligence, however. Some accidents are caused by problems with one of the vehicles involved. Those problems might have been introduced at the manufacturing stage, in which case the auto manufacturer could be liable for your car crash injuries. What if the manufacturer is not to blame, but instead you were sent home with a dangerously faulty vehicle after a trip to the auto repair shop? Can you hold the repair shop and/or the mechanic who worked your vehicle liable? Continue reading for a discussion of auto mechanic liability and call a dedicated NYC car accident attorney if you've been hurt in an accident in New York City.
Mechanics and the Duty of Care
When you engage with certain professionals, such as medical doctors or an accountant, the professional owes you a "duty of care." The duty is typically to perform their services at least as well as a reasonable professional would under the given circumstances. When they breach that duty, and you are harmed as a result, you can hold the professional liable for the damage they caused you.
The same principle applies to auto mechanics. You trust them with your vehicle and with the safety of yourself and anyone else who gets into your car. If they perform their job poorly–by failing to notice an obvious problem, failing to conduct a proper inspection, failing to remedy a problem they do notice, or botching a repair job and leaving your car broken–they are breaching that duty of care. Depending upon the circumstances, you may be able to hold them liable for any harm you suffer as a result.
Proving a Negligence Claim Against an Auto Repair Shop
In any personal injury action for negligence, you need to establish certain legal elements in order to recover compensation. The four basic elements of a negligence claim are duty, breach, causation, and harm.
As we've already discussed, mechanics owe customers a duty of care. They must use reasonable care in working on your car and cannot send you off with a dangerous vehicle riddled with faults that would have been detected and/or repaired by a reasonable mechanic in a similar situation.
Second, you need to establish a breach of that duty. When people talk about negligence, usually they are talking about breach of duty. If a mechanic fails to repair a defect they identify, or if they fail to identify or warn you about a problem that a reasonable mechanic would have resolved in a similar situation, then they have breached their duty of care.
Causation and harm are established when you can connect the mechanic's failure to your ultimate injuries. If the mechanic caused a problem or failed to remedy a problem that a reasonable mechanic should have identified, and that issue contributed to your car accident, then you can hold the mechanic liable.
For example, if you take your car into the shop because of a clunking noise, and the mechanic fails to notice or inform you about a glaring problem with your brakes, the mechanic has likely acted negligently and breached their duty to you. If you wind up in an accident because your brakes failed, you could hold the mechanic liable for any injuries and other damages you suffer as a result.
If the mechanic works for an auto repair shop, you can likely hold the shop liable as well. Employers are responsible for the conduct of their employees through the doctrine of "respondeat superior." If your mechanic messed up when working on your car, their employer is likely liable as well.
Trusted Advice and Representation for Your New York Car Crash Injury Claim
If you or someone you care about has been seriously hurt in a New York City traffic accident, find out if you're entitled to monetary damages for your injuries by contacting the zealous and trial-ready New York car crash lawyer Leandros A. Vrionedes for a free consultation at 212-889-9362.