Storm in Progress Doctrine Prevents Recovery for Slip-and-Fall Victim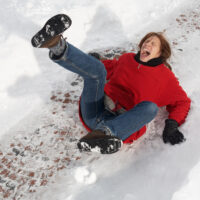 In an opinion recently issued by the Supreme Court of Queens County, the victim of a fall on a New York City bus was denied the opportunity to
seek compensation for her injuries by the "storm in progress" doctrine.
The case, titled Hicks v. New York City Transit Authority, centered on an accident which occurred on January 22, 2014, at 11:30 am. The day before, the city had been hit with a substantial snowstorm which left eight inches of snowfall on the ground. On the day of the accident itself, a trace amount of snow was recorded as having fell. Yasmine Hicks, the accident victim, was exiting the city bus at the intersection of Utopia Parkway and Kildare Road when she slipped on the bus steps and fell, suffering serious injuries in the process.
Hicks filed a claim against the NYCTA for her injuries. In response, the NYCTA filed a motion to dismiss Hicks' claims, arguing that the "storm in progress" doctrine prevented Hicks from succeeding in her claims. Under normal circumstances, landowners and property owners have a legal duty to keep their premises safe for use by anyone the owner invites onto their property, as well as anyone who has a right to be on the property. One of the few exceptions to this rule is the "storm in progress" doctrine. Essentially, the theory acknowledges the impossibility of continually cleaning up melted snow or water tracked in by other guests or customers while a storm is ongoing. Under this doctrine, property owners will not be held financially responsible for slip-and-fall injuries which occur during or immediately after a storm, if the property owner can show that precipitation was still falling, that conditions remained wet and poor, or that the storm had concluded too soon before the accident for the property owner to have had a chance to eliminate any dangerous conditions the storm created.
In this case, NYCTA offered testimony from both the bus driver and Hicks that a storm had occurred the night before Hicks' accident. The bus driver noted during a deposition that roads remained "wet, icy, with a lot of snow left on the ground," resulting in each new passenger tracking snow onto the bus when they entered. While Hicks attempted to argue that the stairs to the bus had been clear of snow when she entered, she was unable to present enough evidence to convince the court that the separation in time between the storm and her accident meant that the "storm in progress" doctrine did not apply.
If you need aggressive, determined, and knowledgeable representation after you are hurt in a New York personal injury accident, contact the seasoned accident litigator Leandros A. Vrionedes for a consultation on your case, in Manhattan at 212-889-9362, or in Queens at 718-777-5895.