Staten Island Judge Rules on Lack of Informed Consent in Medical Malpractice Case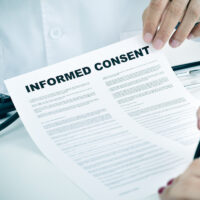 Recently, Judge Minardo of the New York Supreme Court, Richmond County, ruled on a summary judgment motion in the case of James v. DeCorato. The plaintiff in this case sued her doctor for medical malpractice following a series of cosmetic surgery procedures. The judge granted the defendants' motion for summary judgment, dismissing the case against the doctor and clinic for lack of informed consent and other alleged medical errors.
New York Law Limits Lack of Informed Consent in Medical Malpractice Actions
Before a doctor treats you, the physician should obtain your informed consent. This means that you were told about the risks and benefits of the procedure, as well as the risks and benefits of any alternatives. New York Public Health Law 2805-d limits the right to bring a medical malpractice claim for lack of informed consent only to certain cases, such as non-emergency treatment or an invasive diagnostic procedure. For a doctor to be liable, the plaintiff must show that another person in the patient's position would not have undergone the treatment or diagnosis had he or she been fully informed beforehand.
In addition, 2805-d provides a series of defenses for the doctor, including:
The risk is too commonly known to need disclosing
The patient assured the provider he or she would undergo the procedure regardless of the risk involved
The patient did not want to be informed of risks or alternatives
Consent was not reasonably possible
The doctor used his or her discretion in deciding what to disclose because the doctor believed disclosure could adversely affect the patient
Judge Finds Adequate Informed Consent Here
In this case, the doctor was able to show that the patient had signed five separate multi-page consent forms, had attended a seminar about the procedures, and had detailed discussions with the doctor. In addition, the doctor's medical expert witness testified that the consent forms were clear and complete and adequately informed the patient about the risks and benefits of the procedure and alternatives. The patient's medical expert, according to the court, did not offer any medical evidence showing negligence on the part of the doctor, but merely recited the patient's records and complaints, which is something anybody could have done. Based on the doctor's better showing of evidence and medical expert testimony in support of his motion, and the patient's poor showing of evidence in opposition to the motion, the judge dismissed the plaintiff's complaint.