How to Prove You Are Not at Fault In a Car Accident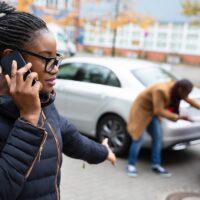 Even with insurance coverage available, it can be difficult to get full and complete compensation after a New York car accident. If you were seriously injured, you might need to bring a personal injury lawsuit against the driver who caused your crash. To prevail in your lawsuit and secure either a favorable settlement or a jury verdict, you will need to prove that the other driver–and not you—was at fault for the crash. Proving fault after a car wreck can be a tricky proposition, and to give yourself the best chance for a full recovery, you need to start building your case the minute an accident occurs. Continue reading for tips on how to prove fault in a car accident, and call a seasoned Manhattan car accident attorney if you or a loved one has been hurt in a traffic accident in New York City.
Contact the police
If you were involved in a crash, especially one in which you or another party was injured, you should report the accident to the police. The police will come to the scene of the accident and conduct an investigation. The police report may be one of your strongest pieces of evidence in establishing fault. Police reports are considered trustworthy evidence, and if the report demonstrates that the other driver was acting negligently, you will have a solid case for recovery.
Collect direct evidence: photos, video footage
Assuming you do not need emergency medical help, before you leave the scene of the crash, collect as much evidence as you can to document the accident. Take photos of all of the vehicles involved (including the damaged area of each vehicle), of your injuries, and of the surrounding area (stop signs, intersections, skid marks, streetlights, weather, inclement road conditions, etc.). Look around for sources of additional evidence such as traffic cameras or security cameras so that you and your attorney can seek to collect this footage later. Your goal is to show that the other driver caused the accident through their negligence–either by ignoring a traffic signal or stop sign, texting while driving, drinking while driving, speeding, passing inappropriately, engaging in other unsafe behavior, or simply by making a mistake.
Witness statements
After an accident, it is important to do more than just get insurance and contact information from other involved drivers. If there was anyone around at the time of the crash, it is vital that you also get information from these potential witnesses. Pedestrians, bicyclists, other drivers who were not involved, and even passengers in both your vehicle and other vehicles involved in the wreck may serve as witnesses in your case. Collect their contact information so that you and your attorney can speak with them down the line. Get a statement from them at the scene of the crash, and take notes. You may end up deposing them or calling them as witnesses in your case.
Expert testimony
If your case cannot be resolved through mediation or settlement negotiations, and if trial seems likely, you might need to rely on the opinions of experts to support your claim. An experienced car accident lawyer can help you find the best experts necessary to prove your allegations of fault, including physics experts, automobile engineering experts, traffic accident reconstruction experts, and others. These experts can provide you with an opinion to use as evidence and may even be called as expert witnesses at trial if your case does not settle.
Get a lawyer
Building the strongest case for your recovery requires having an experienced and effective lawyer on your side. Your attorney will help you identify and collect evidence to support your claim, build the most persuasive arguments in your favor, point out holes in the arguments of the defendant, and present the most compelling case for your side across the negotiation table or at trial. If fault is in dispute after your New York car accident, you need a firm legal hand by your side.
If you've been hurt in a New York traffic accident and need dedicated and effective representation for your claims, contact the Manhattan car accident lawyer Leandros A. Vrionedes for a free consultation on your case at 212-889-9362.