NY Slip and Fall Case Settles Liability when Sidewalk is Separated from Premises by Land Owned by City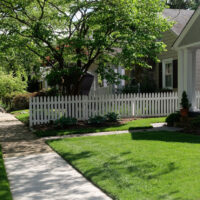 Court finds grocery store liable for upkeep of sidewalk, even when unpaved grassy parcel separates them.
Generally, the owner of a premises is responsible for compensating victims of slip and fall injuries if the accident is due to improper maintenance of the premises. However, when a slip and fall occurs on a sidewalk, it is not always easy to determine who is responsible for compensating the victim.
A recent case in New York deals with a situation where a grocery store patron was injured when the wheel of her shopping cart fell into a hole in the pavement, causing the cart to turn over and fall on her. The problem in the case (James v. 1620 Westchester Ave, LLC, et al, 2013 NY Slip Op 00807 ) is that the City of New York owns an unpaved patch of grassy land that lies between the grocery store and the sidewalk. The defendant grocery store sought to argue that it is the City of New York, rather than the grocery store, who bears responsibility for the upkeep of the sidewalk and for any damages in negligence.
To resolve the issue, the Court turns to the Administrative Code of City of NY § 7-210, which imposes a duty on "the owner of real property abutting any sidewalk… to maintain such sidewalk in a reasonable safe condition." To define the term "sidewalk," the Court uses § 19-101(d) of the NY Administrative Code, which describes "that portion of a street between the curb lines, or the lateral lines of a roadway, and the adjacent property lines, but not including the curb, intended for the use of pedestrians."
The defendant grocery store's New York slip and fall attorneys sought to escape liability on the grounds that the store's property does not actually abut the sidewalk on which the accident occurred because the city's grassy patch of land lies between them. The court denied the grocery store's arguments, however, turning to established New York case law in which premises owners have been held responsible for the upkeep of sidewalks even when the sidewalk and premises are separated by a strip of land. The Court subsequently denied the grocery store's motion to dismiss the case.
If you've been injured in a defective sidewalk case , call Leandros A. Vrionedes for help obtaining compensation from the party who is liable for the damages.