New York's "King of Cranes" Told to Pay Over $96 Million for NYC Crane Collapse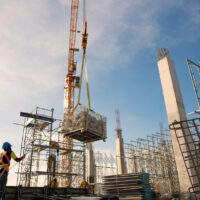 Earlier this month, a Manhattan jury returned a $96 million verdict to the families of two men killed in a 2008 crane collapse on E. 91st Street in New York City. This award includes $48.3 million in compensatory damages and another $48 million in punitive damages. The defendant, James Lomma, will be forced to pay $29.2 million of the punitive damages personally, and his two companies, NY Crane & Equipment, James F. Lomma Inc., will be responsible for the balance.
The accident occurred when the apparatus holding up the crane separated from the crane, and the crane collapsed to the street below. Ramadan Kurtaj, 27, was working on the street when the crane collapsed. Although he ran and tried to escape the crane, he was not able to avoid getting hit. The operator of the crane, 30-year old Donald Leo, also died in the collapse.
The jury decided that Lomma and his company bore particular responsibility for the accident since evidence showed they had replaced a critical component of the crane with a part that they knew was defective. The Chinese company which manufactured the part had sent Lomma's company an email stating that it was not confident about the welding performed on the part, yet Lomma went ahead and used the part anyway.
A criminal case had even been brought against Lomma, charging him with manslaughter in the deaths, although he was acquitted of the charges. Another criminal case against him was dismissed in 2012. As you can see, however, the standard of proof required to convict someone of a criminal charge is very different from what is required to hold somebody liable in a civil case. Although Lomma is not subject to criminal penalties, the verdict against him is surely one of the largest of its kind in a New York City construction accident injury or wrongful death case.
Long road to recovery for families of victims
The trial that led to this verdict began one year ago and lasted more than 100 days, spread out over the many intervening months. Over the course of the trial, 60 witnesses, including many expert witnesses, testified for the plaintiff and defense. There were many delays in this litigation which lasted years, including even a previous trial that ended in a mistrial. Thankfully, the families and their attorneys persisted despite numerous setbacks in this complicated, hard-fought litigation. While no amount of money can make up for the loss of a loved one, this award sends a strong signal to construction companies and contractors that not only New York Law, but New Yorkers as well, simply will not tolerate construction activity that puts workers at an unreasonable risk of injury or death.