New York Court Rules In Favor of Person Injured on Slopes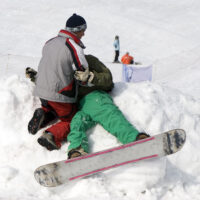 Participating in dangerous activities generally bars an accident victim from suing for their injuries based on those dangerous activities. However, there are exceptions to every rule. A recent decision by the New York Appellate Division, First Department in favor of an injured plaintiff is an example of the limits of the "assumption of the risk" doctrine as it applies to inherently dangerous activities.
The case that the First Department (covering Manhattan and the Bronx)considered was titled Horowitz v. Chen. The events forming the basis for the suit took place on the ski slopes, where the plaintiff Keri Horowitz was a snowboarder, and the defendant Ethan Chen was skiing. Horowitz was chatting with a friend at the base of one of the resort's beginner slopes, an area designated as a "safety zone," when the accident occurred. Chen suddenly approached, traveling somewhere between 12 and 19 mph, according to the court. Chen collided with Horowitz, resulting in what the court deemed "significant injuries." Horowitz filed a lawsuit for her injuries against Chen. Chen filed a motion to dismiss her claims, arguing that by engaging in the sport of snowboarding, Horowitz had assumed the risk of injury and waived her right to sue for any injury-related expenses.
Certain activities are deemed by the State of New York to carry such intrinsic, unavoidable chance of injuring participants that those who choose to engage in these "inherently dangerous" activities have only a limited right to sue if they're hurt. A participant is considered to have "assumed the risk" that they'll be injured if they participate in such dangerous sports as skiing, parasailing, or rugby, and may not be able to recover for their injuries if they're hurt. That said, there are exceptions to this rule in cases where an organizer or fellow participant behaves unreasonably dangerously. The court noted, "participants do not consent to conduct that is reckless, intentional or so negligent as to create an unreasonably increased risk." In other words, while a snowboarder assumes the risk that they might end up in a deep pocket of snow or crash into a tree, they can't be expected to assume the risk that a fellow skier will bash them with a pole, or run them over while they're in an area designated to be free from skiers in motion.
The court found several factors that could be found to demonstrate recklessness on behalf of Chen. First, the speed at which he was traveling seemed unreasonably fast for the base of a slope. Second, he was traveling at that high rate of speed in a safety zone, where other skiers and snowboarders wouldn't reasonably expect any fast-moving skiers to be present. Third, the accident victim's injuries were sufficiently bad that it stood to reason that she had sustained a "violent collision," according to the court. The Appellate Division denied Chen's motion to dismiss, permitting Horowitz's claim to move forward toward trial.
If you've been injured in a sporting accident or otherwise been the victim of another person's reckless or negligent behavior, contact the determined, knowledgeable, and trial-ready New York personal injury attorney Leandros A. Vrionedes for a consultation on your claims, at 212-889-9362 (Manhattan), or 718-777-5895 (Queens).