Liability for Negligence under the Nursing Home Reform Act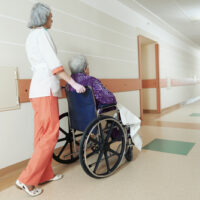 The NHRA was enacted by Congress in 1987 to ensure the "highest practicable" services to nursing home residents for their mental, physical and emotional well-being. Violation of NHRA guidelines can open a nursing home up to administrative penalties from the state as well as civil liability to nursing home residents, who may obtain compensation for the harm done to them.
The NHRA came about as a result of an Institute of Medicine study of the quality of care in nursing homes served by Medicare/Medicaid, which found widespread instances of abuse, neglect and inadequate care. To help combat nursing home abuse and neglect, the NHRA set out a list of basic rights that all nursing home residents are entitled to.
This "Residents' Bill of Rights" includes the following rights, among others:
Right to privacy
Right to be free from physical restraints
Right to be treated with dignity
Right to communicate freely
Right to be free from abuse and neglect
Right to air grievances without fear of discrimination or retaliation
Additionally, nursing homes are required to provide certain services to residents, including:
Periodic assessments
Comprehensive care plan
Nursing services
Social services
Rehabilitation services
Pharmaceutical services
Dietary services
The NHRA applies to any nursing home facility receiving funding through Medicare or Medicaid. About once a year, the state conducts unannounced surveys at facilities, including interviews with residents, to determine whether the facility is in substantial compliance with federal regulations.
If you or a loved one are in a New York City nursing home where you feel the NHRA has been violated or there have been other instances of abuse or neglect, contact Leandros A. Vrionedes at 1-800-634-8144 for immediate assistance.