Landlord Not Liable for Off-Premises Dog Bite by (Former)Tenant's Animal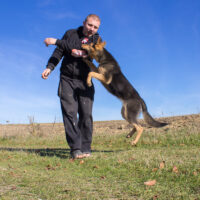 A man who was bit by a dog not only sued the dog's owner, but he also sued the owner's landlord, despite the fact that the landlord had already evicted the dog owner and despite the fact that the attack took place several miles away on someone else's property. In a motion to dismiss the property owner from the case, the Supreme Court of New York, Nassau County, granted summary judgment for the landlord.
The attack at the heart of Ferrara v. Ball occurred in Lindenhurst on Long Island, several miles away from the dog owner's residence in Babylon. The injured plaintiff had been standing in a neighbor's driveway talking to two men in a vehicle about one of the men possibly buying the plaintiff's car. As the plaintiff was gesturing with his hand close to the car, a dog in the back seat lunged forward and bit the plaintiff.
As mentioned above, the injured plaintiff sued the dog's owner and the owner of the property where the dog and owner had been residing. It is possible sometimes to recover compensation against a landlord for injuries caused by a tenant's dog on a strict liability theory, but only where the plaintiff can show that the landlord (1) had notice that a dog was being harbored on the premises; (2) knew or should have known that the dog had vicious propensities, and (3) had sufficient control of the premises to allow the landlord to remove or confine the dog.
Can this law apply when the attack occurs somewhere other than the landlord's premises? It certainly could, when a dog escapes from the premises and attacks someone, on the theory that the attack would not have happened had the landlord secured the premises properly. However, that is clearly not the case here. Here, the owner himself had removed the dog from the premises, and it was in a car with the owner when the attack happened. The dog had not "gotten loose" from the premises because of some failure of the landlord. The court decided that is simply wouldn't make any sense to hold the landlord responsible for this particular attack.