Ladder Falls: What Are My Legal Rights?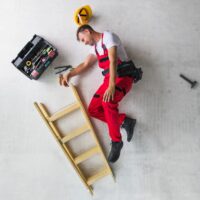 Ladder falls are among the most common causes of construction worker injury. Falling from a ladder can lead to serious injury, especially if there are hard surfaces, sharp edges, machinery, or dangerous chemicals in the area. Read on for an exploration of your rights after a ladder fall, and call a dedicated New York construction accident lawyer if you or someone you care about has been injured in a ladder fall in New York City.
Workers' Compensation After a Ladder Fall
Any construction worker injured while on the job has the right to seek workers' compensation coverage. So long as the ladder fall occurred on the job and/or in connection with workplace duties, a worker is guaranteed workers' comp coverage for medical bills and a portion of any wages lost as a result of their injuries. Workers are covered regardless of who caused the accident, meaning that a worker who misused a ladder and contributed to their fall is still covered by workers' comp.
Self-employed workers and independent contractors are not covered by workers' comp. Additionally, a worker might not be covered if their injuries were solely caused by their intoxication, or if they intentionally hurt themselves (e.g., by jumping off the ladder on purpose). Outside of those narrow circumstances, a worker injured in a ladder fall should be covered by workers' comp.
Under most circumstances, workers' comp is the exclusive remedy for workers to recover against their employer. Workers cannot typically bring a negligence claim against their employer, even if the employer's negligence contributed to the workers' injury. Workers' comp is limited to medical costs and lost wages and does not cover non-economic damages such as pain and suffering. While employees can't sue their employer, they can sue a third-party General contractor and the owner of the property.
Labor Law Section 240 and Third-Party Liability
New York's Labor Law has a special provision specifically dedicated to employees working on construction projects at elevated heights. The provision covers scaffold work, ladder work, and other elevated work projects. Section 240(1) requires contractors and property owners to furnish ladders and other appropriate safety equipment necessary to protect workers while working on an elevated surface. If a property owner or general contractor fails to provide an appropriate ladder and other necessary safety equipment, and a worker is injured as a result, the owner or contractor may be held liable for any resulting injuries. Federal OSHA regulations also set guidelines for ladder safety.
The provision thus protects subcontractors working on a project and gives a remedy for workers injured due to faulty equipment or lack of proper safety apparatus. In addition to the remedies provided by Labor Law section 240, a worker injured as a result of actions by another third party may have an additional claim for damages beyond workers' compensation. If the ladder manufacturer sold a faulty product, for example, or if a subcontractor from a different company knocked the ladder over, then the injured worker could be able to seek additional damages.
If you or someone you care about has been injured in a ladder fall accident on a New York construction site, get help seeking damages from a qualified professional by contacting NYC construction accident lawyer Leandros A. Vrionedes for a free consultation at 212-889-9362, or in Queens at 718-777-5895.