Injured Plaintiff Permitted to Pursue Claim against City for Missing Signal Light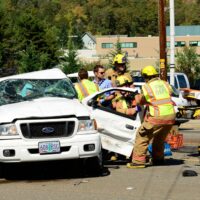 When turning left at a busy intersection that lacked an arrow signal, or making a turn where you were blind to oncoming traffic, you've probably wondered why the city hasn't taken steps to make that intersection safer. In fact, the local government does have an obligation to ensure that the roads aren't unreasonably dangerous, and when someone receives injuries that could have been prevented, the government may be liable to that accident victim. A recent Appellate Division case raised issues regarding a county's liability for injuries where it had failed to install a traffic signal at a dangerous intersection.
The case, titled Warren v. Evans, was based on an accident in the town of Glen Cove. Gregory Evans was attempting to turn left into a shopping mall at an intersection that had a dedicated left turn lane but did not have an arrow signal. Graham James Warren was driving a motorcycle in the opposite direction of Evans' vehicle. Evans turned in front of Warren at too close a distance for Warren to avoid hitting him. Warren died as a result of his injuries from the crash. Warren's executor sued the County of Nassau for negligently failing to install a green arrow at the intersection where the crash occurred. The County of Nassau filed a motion to dismiss the claims, arguing that it had immunity for its highway planning decision.
City and state governments have an obligation to install traffic signs or signal lights that have been deemed necessary to keep drivers and pedestrians safe. If a government body is repeatedly confronted with evidence, such as citizen complaints or police reports of accidents, showing that a given street or intersection is not safe as it is currently designed, then that government body has a duty to take reasonable steps to make it safer. One example might be where pedestrians were routinely being struck by unwitting drivers while in a crosswalk that was not illuminated by a street light. If the local government became aware that pedestrians kept getting hit because drivers couldn't see them, and understood that a street light would help pedestrians become more visible but failed to install a light, the government could bear liability to pedestrians who were hit after the government realized the flaw.
While governments do have a duty to keep streets in a reasonably safe condition, courts should take care not to intrude into planning decisions made by those government offices. In this case, the County of Nassau argued that governments have what is known as "qualified immunity" for liability deriving from highway planning decisions, and thus that the claims against them should be dismissed. According to the Appellate Court, this means that the government office cannot be held liable for injuries stemming from a highway planning decision unless the decision was "plainly inadequate, or there [was] no reasonable basis for its traffic plan."
Government offices will only have immunity from highway planning decisions where they can show that they thought through a planning decision carefully. If a government office studied the issue that forms the basis for the plaintiff's lawsuit, but reached a different conclusion, then that office cannot face liability for the plaintiff's injuries. In other words, if the County of Nassau had already considered whether a green arrow should have been installed at the site of the fatal accident and conducted studies to determine whether it was necessary, but concluded that it was not, then the County could not be sued on that basis. In the case at hand, however, the County of Nassau could not prove that it had conducted an investigation on whether an arrow was necessary. The Appellate Division ruled that, without evidence of such an investigation, the County was not immune from a lawsuit on the issue, and ruled that the plaintiff's claims could move forward toward trial.
If you've been injured as the result of negligence on behalf of a city or the State of New York, find out if you may have a right to compensation for your injuries by contacting the experienced, seasoned, and determined New York personal injury lawyer Leandros A. Vrionedes for a consultation, in Manhattan at 212-889-9362, and in Queens at 718-777-5895.