Injured MTA Employees Lose Claim Against New York State but Win Against New York State Thruway Authority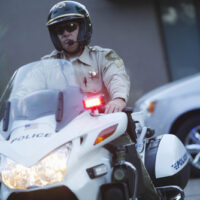 In September the New York State Court of Claims heard a case brought by three employees of the Metropolitan Transit Authority (Metro-North) against the State of New York and the New York State Thruway Authority. The case involved a crash on the New York State Thruway that occurred in March 2009. The Metro-North employees were in a Metro-North truck traveling northbound on I-87. The employees were riding in the right-hand lane, and to their left in the center lane was a vehicle owned and operated by an employee of the Thruway Authority. The left lane of traffic was coned-off for construction.
A New York State Trooper was parked in that coned-off left lane with a license plate reader, looking for unregistered or stolen vehicles. The trooper got a hit on a vehicle and pulled into traffic in the center lane, keeping his eye on the suspect vehicle ahead whom he was chasing. The Thruway Authority employee, in attempting to avoid a collision with the trooper, veered into the right lane, forcing the Thruway Authority vehicle and the Metro-North truck into a concrete jersey barrier on the right shoulder. The trooper continued on to chase his suspect, but later returned to the scene, where he got into an argument with the Thruway Authority driver over who was responsible for causing the accident. The trooper is now retired and living in Florida.
Since the lawsuit was filed against the State of New York and the New York State Thruway Authority, the case was heard by the New York State Court of Claims instead of the Supreme Court for the County where the accident took place. The court held a bifurcated trial, meaning the judge split the case into two parts – one to deal with the issue of liability, and a separate proceeding to deal with the question of damages, assuming anyone was found liable in the first trial.
The court in Gambino v. New York State Thruway Authority did not find any fault with the trooper, and so dismissed the complaint filed against New York State. The court felt that the plaintiffs failed to show that the trooper acted with reckless disregard for the safety of others. There was conflicting testimony about whether the trooper entered traffic suddenly or gradually, and whether the police car had its lights on or not. The court decided that the trooper gradually entered traffic with his lights activated, and that he was positioned in full, open view in the coned-off construction lane, clearly observed by oncoming traffic, including the Thruway Authority employee.
The court found the Thruway Authority driver negligent and 100% liable for causing the accident. The case will proceed with a trial on the issue of damages against the Thruway Authority for the injuries suffered by the Metro-North employees.