Fatal Bus Crash in Mid-Hudson Valley Highlights Deadly Danger of Rollover Accidents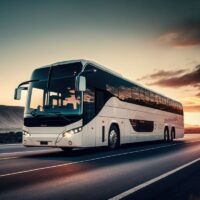 A charter bus carrying 40 students and four adults from Long Island's Farmingdale School District crashed yesterday in the Mid-Hudson Valley, taking the lives of two adults and injuring 40 other passengers onboard. The accident happened on Interstate 84 near the town of Wawayanda in Orange County, about 75 miles northwest of New York City.
The passengers were making an annual trek to a weekend band camp when the bus went down a 50-foot ravine in a horrifying rollover crash. As of this writing, five students have been listed as in critical condition, as reported by NBC New York.
The two adults who died in the crash were the school's band director, 43-year-old Gina Pellettiere of Massapequa, and a chaperone who taught at the school for many years, 77-year-old Beatrice Ferrari of Farmingdale. Ferrari was described as the "heart and soul of our marching band program" in a letter to parents sent from the Farmingdale School District and obtained by NBC New York. Ferrari's daughter, Dr. Angela Ferrari-Aldieri, reported to the news outlet that her mother was known as "Grandma Bea" to the students whom she chaperoned over many years.
Faulty Tire Believed to Have Caused the Crash
The cause of the accident has not yet been determined, although the preliminary evidence at this time points to a faulty front tire. The National Transportation Safety Board (NTSB) has been called to investigate, along with the NY State Police. The NTSB is charged with investigating every civil aviation accident in the United States as well as significant events in other modes of transportation, including highway and bus accidents. After receiving an initial notification of an accident and making the decision to investigate, the NTSB quickly assembles and dispatches a "go team" to conduct on-site fact-gathering and begin the laborious process of analyzing the evidence. At some point, the NTSB will make a probable cause determination, followed later by a final report and safety recommendations to prevent future similar crashes. This entire process can take a year or two, depending on the complexity of the accident.
A tire blowout, even on a ten-wheel charter bus, is precisely the type of fault that could cause a bus to roll over or leave the roadway, often with catastrophic and deadly results. Safe transportation of bus passengers requires careful inspection of critical systems like tires and replacement of any overly worn tires. Tire defects and failures, however, remain a leading cause of accidents and injuries. Just this past May, the Commercial Vehicle Safety Alliance completed its 2023 International Roadcheck, an annual pre-announced roadside inspection that this year covered nearly 60,000 commercial motor vehicles in the U.S., Canada and Mexico.
This year, as is typical of annual Roadcheck reports, 19% of vehicles inspected were found to have at least one out-of-service (OOS) violation. Over 11,000 vehicles were immediately removed from the roadways pending correction of the violations. Tires rank #2 among out-of-service violations, making up nearly 20% of all OOS violations and covering 3,368 commercial vehicles in this year's Roadcheck. Of course, these inspections covered only a tiny fraction of the North American trucking fleet. Extrapolating the numbers creates a frightening vision of the number of buses, trucks and tractor-trailers traveling the roads and highways right now with unsafe tires, brakes, unsecured cargo and other critical violations.
A rollover accident is a particularly deadly type of crash. Although rollovers occur in only three percent of all motor vehicle accidents, they account for about 30% of all traffic fatalities.
Our thoughts today are with the victims of this latest preventable crash and their families. As New York Governor Kathy Hochul said about the accident, "We have families, we have a school, a school district, a county and indeed an entire state that is grieving at this time." As a personal injury law firm, our job brings us into contact daily with injury victims and grieving families, and we witness firsthand the pain and suffering such needless accidents bring.