Elevator Trip and Fall in the Bronx Raises the Judicial Doctrine of Res Ipsa Loquitur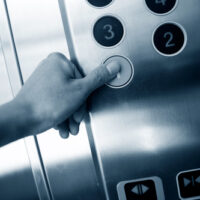 A Bronx woman tripped and fell in her apartment building upon entering an elevator that was misleveled with the floor. She sued the building owner (1366 White Plains Road Association, LLC) and the management company (Universal Management Agency). Those defendants, in turn, sued the elevator maintenance company (Eltech Industries, Inc.) with whom they had a maintenance contract. When that happened, the plaintiff (Carcana) amended her complaint to add Eltech Industries as a defendant in her suit as well.
Eltech filed summary judgment motions with the court to dismiss the claims against it. In a ruling decided on December 13, 2013, the Supreme Court, Bronx County granted Eltech's motion and dismissed the complaint of the building owner and the management company against it. However, the court denied Eltech's other summary judgment motion and refused to dismiss the complaint against it brought by the injured plaintiff. The case is Carcana v. 1366 White Plains Road Asso., LLC.
In its motions, Eltech moved to dismiss the claims against it because it says it was never put on any notice of a misleveling problem and also because it did not have exclusive control over the elevator. These arguments were rejected by the court, which invoked the ancient legal doctrine of res ipsa loquitur, or "the thing speaks for itself." When an event happens that would not ordinarily occur without negligence, and the cause is within the exclusive control of the defendant, res ipsa loquitur allows the jury to infer the defendant's negligence without any further proof, so long as the plaintiff did nothing to contribute to the accident.
In this case, an elevator would not normally be misleveled unless somebody in control of it was negligent. Instead of dismissing the case, then, the court should allow it go to trial and let a jury decide who is responsible for the accident.
As to the claim of exclusive control over the elevator, in elevator accident cases, both the building owner and the maintenance company are generally found to have "exclusive" control. In fact, the terms of the maintenance contract here held the owner responsible except when the company was actually working on and in control of equipment, at which times the maintenance company would be responsible. The jury could find either party or both responsible for the misleveling, but it could not be considered the plaintiff's fault, because she had no ability to control the elevator's leveling.
The case against Eltech brought by the building owner and management company was dismissed because they didn't bother to oppose Eltech's summary judgment motion.