Court Rejects Plaintiff's Notice of Claim to New York City Transit Authority in MTA Bus Accident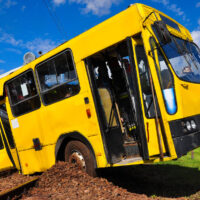 The Supreme Court, New York County, recently dismissed a personal injury case against the New York City Transit Authority (NYCTA) for an MTA bus accident because proper notice wasn't given to the Transit Authority. It is important in any personal injury or wrongful death matter to know and obey the applicable rules, but in a case involving a public agency, it is especially important to be aware of the special laws and short deadlines which apply. For instance, General Municipal Law 50-e requires that notice be given within 90 days of the date of the accident or injury if you intend to file a claim against the city.
In the case of Loughlin v. New York City Transit Authority, after a woman (Nancy Loughlin) was injured in an MTA bus accident in December 2011, her lawyer sent two letters to the NYCTA Claims Processing Unit in February stating that he was representing Loughlin in her claim for personal injuries and PIP (no fault) benefits. He also sent an MTA Information Exchange Form and doctor report, requested an incident report, and sent an Application for Motor Vehicle No-Fault Benefits.
The court held that these letters were insufficient to put the NYCTA on notice that a civil claim was forthcoming. The letters did not comply with the statutory requirements in form or content, and they never mentioned the word "negligence." Although they did use the word "claim," the NYCTA could have thought this just meant a claim for no fault benefits and not civil litigation. Since no-fault benefits are, of course, not based on fault, NYCTA might not investigate the accident for a no fault claim the same as it would if it had to defend a personal injury civil lawsuit. A claim for no fault medical benefits, also known as Personal Injury Protection (PIP), must be made within 30 days of an accident.
Previous court rulings have held that just submitting the no fault application by itself does not satisfy the notice requirements of section 50-e, but some courts have held that submitting the claim form along with correspondence from the plaintiff's attorney to the claim department is sufficient notice of a claim. The court here, however, said that the attorney's letter was just a "cover letter" to the claim form, so it didn't satisfy the requirements to put the Transit Authority on notice of a possible civil action.
Although normally the court can allow a person to serve a late notice in certain situations, the court could not in this case because the statute of limitations had already passed. Claims against NYCTA must be submitted within one year and 90 days of the date of the accident or injury, a deadline significantly shorter than the three-year statute of limitations for most personal injury claims against private parties.
This case serves as an object lesson for anyone who was injured in an accident involving public transportation. The procedure required to get compensation for your injuries are different and highly technical and should be carefully followed with the help of an attorney experienced in public transit accidents.