Common Wrist Injuries Experienced in Personal Injury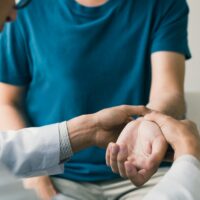 Injuries to the wrists are extremely common in personal injury matters. When someone slips and falls in a grocery store, for example, they tend to throw their hands in front of themselves to brace for the impact with the floor. Even if they suffer no other injury, some damage to the hands and wrists is likely to result. Wrist injuries commonly arise in car crashes, motorcycle crashes, construction accidents, and all manner of other personal injury situations. Below, we discuss the most common wrist injuries that arise in personal injury matters and how to identify them. Reach out to a talented NYC personal injury attorney if you or someone you care about has been hurt by someone else's negligence in New York City.
Dislocations
Dislocations occur when an accident victim suffers damage to the wrist joint. The joint is the place where two or more bones come together. A dislocation occurs when the ends of the bones are forced from their normal position, temporarily deforming and immobilizing the joint. Sudden impact or a twisting, jerking motion resulting from an accident can cause dislocation. Dislocations are extremely painful and if not treated immediately can lead to long-term damage.
Fractures
Bone breaks or fractures often occur when a body part suffers a sudden heavy impact with a hard object, when a joint is twisted too far or in the wrong direction, or when a body part is crushed between heavy objects. Wrist fractures can take weeks or months to heal, incapacitating the accident victim and limiting their ability to work or perform daily activities. Fractures can range from small cracks to full-on breaks, depending upon the severity of the impact.
Sprains
Sprains refer to damage to the ligaments, which are the tissue that connects bone to bone. Sprains can range from minor tears to complete ruptures, depending upon the severity of the injury. More severe sprains are delineated by "grade," with grade one being the least severe and grade three being the most severe. Grade three sprains require surgery to fix and may even involve a bone fracture as the ligament tears.
Sprains often occur when the wrist strikes a hard object during an accident, such as a slip and fall or car crash. Sprains can be extremely painful and debilitating, leading to long-term functional limitations.
Tendon Damage
Tendons in the wrist connect the wrist muscles to the bones. After experiencing blunt trauma, tendons in the wrist can become inflamed. Over time, the accident victim can develop tendonitis, causing pain, functional limitations, and other problems in the affected area.
Symptoms of Wrist Injury
If you've been in a car accident, slip and fall, or other incident, it's important to watch out for wrist injury symptoms. They may arise immediately or develop in the days or weeks following the accident. Common symptoms of wrist injuries include:
Pain in the wrists, fingers, or palms
Swelling around the wrist or hands
Bruising or discoloration around the wrist
Numbness or tingling in the wrist, hands, or fingers
Trouble straightening or flexing the wrist or fingers
Difficulty grasping objects and general loss of grip strength
Other loss of wrist, hand, or finger functionality
If you've been in a car crash or otherwise suffered a personal injury, it's important to see a doctor as soon as possible. They can conduct x-rays and other tests to identify wrist injuries that you might brush aside or not yet know about. Undiagnosed and untreated wrist injuries can worsen over time, and if you avoided the doctor after your crash or disregarded their advice, you could have a tougher time securing a complete recovery for the harm you have suffered.
Dedicated Advice and Representation for Your New York Personal Injury Claim
If you or someone you care about has been hurt by someone else's negligence in New York City, find out if you're entitled to money damages for your injuries by contacting the zealous and professional New York personal injury lawyer Leandros A. Vrionedes for a free consultation at 212-889-9362 or 718-777-5895.