Claims of Man Injured in Elevator Shaft Fall Move Forward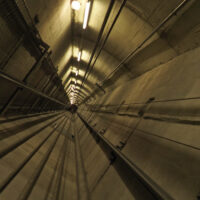 A New York man's claims based on injuries he suffered on the job at a Manhattan construction site will now move forward toward trial after defendants' motions to have his claims dismissed were denied by the court. The injury victim, who also filed a motion to have liability determined ahead of trial in his favor, will have his work cut out for him in proving his entitlement to damages at trial. Read on to learn more about the issues in the case, and contact a Manhattan construction accident lawyer if you've been hurt on the job in New York.
Elevator shaft fall results in lawsuit
The case, titled Radeljic v. Certified of N.Y., stemmed from a worker's major fall. Adolf Radeljic, the foreman on the job site, was working near an open elevator shaft. He had been provided with a safety harness with permanently attached lanyards. Radeljic testified that he would have been unable to do his job on the worksite on the day of the accident if he had been wearing the harness provided to him, and so he did not put it on. Radeljic tripped on rope near the entrance of the elevator shaft and fell, becoming seriously injured. At one point, there had been a plywood barricade protecting the entrance of the elevator shaft, but it was removed at some point before his fall. Radeljic filed a claim against the general contractor, Certified, for claims under New York's Scaffold Law, Labor Law § 240(1), as well as § 241(6), mandating that construction sites be kept safe, and § 200, mandating that employers keep job sites in a safe condition.
Contractor claims worker responsible for his injuries
Certified filed a motion for summary judgment to dismiss the plaintiff's claims. Certified argued that Radeljic's § 240(1) claim should be dismissed because the worker was the sole proximate cause of his own injuries. Section 240(1) imposes absolute liability on contractors and property owners when a worker is injured in a gravity-related accident. Workers will be held responsible for their own injuries only when a court rules that they were the "sole proximate cause" of their injuries. In other words, if the workers' unreasonable or reckless actions were the only cause of their injuries, the owner or contractor will not be obligated to compensate them for their injuries.
One of the most common reasons that a court might find a worker to be the sole proximate cause of their injuries is where the worker is deemed "recalcitrant" by refusing to wear safety equipment provided by the contractor and suffers injuries that the equipment might have prevented. Here, Radeljic argued that he wouldn't have been able to do his job in the provided safety harness, but other witnesses argued to the contrary. Certified also presented testimony stating that Radeljic was responsible for the fact that the plywood barricade had been removed from the elevator shaft. While Radeljic successfully prevented his claims from being dismissed, he will need to present evidence at trial proving that he could not have prevented the removal of the barricade, as well as the fact that he couldn't have done his job while wearing the safety harness provided.
If you've been hurt on a New York construction site, find out whether you're entitled to compensation through a personal injury lawsuit by contacting the skilled, dedicated, and knowledgeable Manhattan construction accident lawyer Leandros A. Vrionedes for a free consultation on your case at 212-889-9362, or in Queens at 718-777-5895.