Appellate Division Finds Driver Responsible for Accident in Icy Weather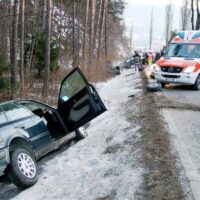 In a recent case before the First Department of the New York Appellate Division, the court was asked to decide whether a driver who rear-ended another driver should be deemed responsible for a crash which he claimed was caused by snowy roadway conditions.
Collision after rear vehicle skids on ice
The case, titled Matos v. Sanchez, occurred on a winter day where ice was present on the road. The plaintiff, Juan Matos, came to a sudden stop in the road. Angel Sanchez, the defendant driver, was driving Basics Development Group's vehicle behind Matos, and slammed into the rear of Matos' vehicle after skidding on a patch of ice. Matos suffered injuries and filed a lawsuit against Sanchez and Basics Development Group. Matos filed a motion for partial summary judgment on the issue of liability, asking the court to resolve before trial that Sanchez was the at-fault driver in the crash due to being the rear vehicle in a rear-end crash, leaving only a question as to how much the defendants owed in damages to be decided at trial. The trial court granted Matos' motion, and the defendants appealed.
Rear driver found prima facie negligent
In New York, a rear-end collision with a vehicle that is stopped or stopping results in a default assumption that the driver of the rear vehicle is negligent; courts refer to this as a "prima facie case of negligence" on behalf of the rear vehicle. This means that, in order to avoid being held liable as the at-fault driver in the crash, the driver of the rear vehicle must prove that there was some non-negligent explanation for why the accident occurred.
Drivers responsible for taking weather into account
The defendants claimed several defenses against Matos' motion for summary judgment. Primarily, defendants relied on the argument that Sanchez was not negligent in hitting Matos' vehicle due to the fact that the ice on the road was to blame for the crash, since Sanchez braked in time but skidded on the ice and nevertheless hit Matos. However, the Appellate Division rejected this defense. The court's opinion noted that "a driver is expected to maintain enough distance between himself and cars ahead of him so as to avoid collisions with stopped vehicles, taking into account weather and road conditions." In essence, the court explained that the law requires drivers to maintain a safe enough distance from other cars that they can avoid a crash even if they encounter ice or snow on the road. Matos' award of partial summary judgment holding the defendants liable was upheld by the Appellate Division.
If you've been injured in a crash in New York, seek experienced, diligent, and effective representation to ensure you're fully compensated for your injuries, and contact Manhattan personal injury attorney Leandros A. Vrionedes for a consultation, at 212-889-9362, with additional offices in Queens at 718-777-5895.