AAA Study Finds Pedestrian Detection Tech Still Has a Ways to Go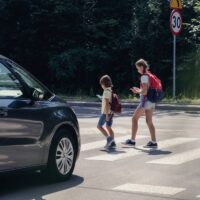 One day in the not-too-distant future, cars will be fully automated and self-driving. With robotic precision, we'll wonder how we ever allowed fallible humans to drive cars traveling at deadly speeds. Unfortunately, we're not there yet. Current technology allows for some self-driving mechanisms, including collision detection and pedestrian detection. These mechanisms are far from perfect, and people who mistakenly rely too heavily on such technology can find themselves in trouble when a technical failure leads to an injury.
Auto group AAA recently published a study that found significant problems with the pedestrian detection and automatic emergency braking systems installed in some current vehicles. Read on to learn about the study, and call a seasoned NYC car accident attorney if you've been hurt in an accident in New York City.
AAA Finds Pedestrian Detection Rarely Avoids Collision, Useless at Night
A recent study released by AAA sought to evaluate the effectiveness of certain collision detection systems in modern vehicles. AAA tested four model year 2019 sedans: the Chevrolet Malibu, the Honda Accord, the Tesla Model 3, and the Toyota Camry. Each of the vehicles was equipped with automatic emergency braking and pedestrian detection. The results of their tests were less than ideal.
Automatic emergency braking (AEB) is a safety system that is meant to identify when a collision is about to occur. Upon detecting an impending collision, the system automatically activates the brakes to either slow the vehicle before impact or stop the vehicle entirely before a collision occurs. The systems typically use radar, cameras, or LiDAR to identify collisions. AEB systems work best to prevent collisions at slow speeds. They are common across all makes and models of modern vehicles. In fact, per an agreement with the National Highway Traffic Safety Administration (NHTSA), as of 2022 nearly all newly manufactured vehicles should be equipped with AEB.
Pedestrian detection similarly uses advanced cameras and sensors to react before a crash occurs. The systems are designed to engage the brakes automatically or at least alert the driver if there's a pedestrian in the path. The systems are supposed to detect the subtleties of human movement and slow or stop the vehicle prior to collision. Like AEB systems, pedestrian detection works best at lower speeds, typically under 25 mph.
Modern vehicles built with both AEB and pedestrian detection systems should, ideally, alert drivers in advance of collision with a person and, if the driver fails to react, automatically engage the brakes to either stop the vehicle or slow to mitigate the chances of serious injury. AAA found that the pedestrian detection, paired with AEB systems, was "significantly challenged" in several simulated test situations involving dummies representing adults or child-sized pedestrians.
Among the findings of AAA's tests:
For vehicles traveling at 20 mph and an adult-sized pedestrian, the systems avoided collision only 40 percent of the time.

If a child darted out in front of the vehicle and the vehicle was traveling at 20 mph, the system avoided collision only 11 percent of the time. At 30 mph, no collisions were avoided.

None of the vehicles avoided collision or even mitigated the impact with a pedestrian immediately after turning right and traveling at 15 mph.

The systems were found to be utterly ineffective at responding to adults crossing the road at night.
The results of these tests demonstrate that we are far from reliable pedestrian detection. Drivers should continue to exercise caution and vigilance at all times, even if their new vehicles boast about collision avoidance and pedestrian detection systems.
Dedicated Advice and Representation for Your New York Car Crash Injury Claim
If you or someone you care about has been seriously hurt in a New York City traffic accident, find out if you're entitled to monetary damages for your injuries by contacting the diligent and successful New York car crash lawyer Leandros A. Vrionedes for a free consultation at 212-889-9362.